Breaking News: The Muppets' Kermit And Miss Piggy Have Broken Up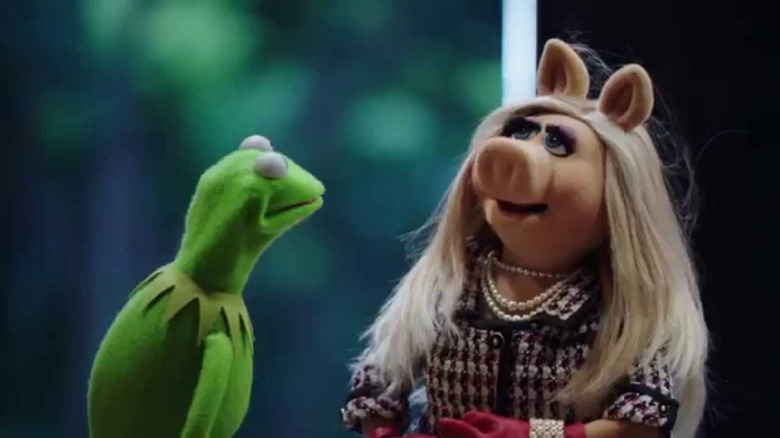 You may have gotten a sense of this if you saw the 10 minute sizzle real for The Muppets new ABC TV show, but Kermit the Frog confirmed it at the Television Critics Association summer press tour. Kermit and Miss Piggy have indeed broken up. They are still working together on the series, and Kermit is producing Piggy's upcoming late night talk show, so expect tensions to flare up. Hit the jump to learn more about the Kermit and Miss Piggy break-up.
"Piggy and I have gone our separate ways romantically," Kermit said. "It's just coming out in the press, you'll hear about it soon. It can be tough to work with your ex. It's tough to be executive producer on your ex's late night talk show, especially when your ex is a pig. I don't know if any of you have dated pigs."
Further than that, Kermit deflected personal questions and wanted to keep the panel focused on the new show. Asked if there was any hope of a reconciliation with Miss Piggy, Kermit said, "I don't know. People change, so do frogs and pigs. We were together for a long, long time. It's personal. I don't want to go into it too much. There will be an official statement released in the press. I don't want to betray anything."
Actually, Kermit has some good news. He has a new girlfriend, and she is also a pig. Her name is Denise, who works in ABC marketing.
"I think she heads it up," Kermit said. "She's a pig. I do have an attraction to pigs."
Miss Piggy joined the panel late to add her two cents to the breakup story. Since the ABC comedy is a reality show, she thinks being single again will benefit the show.
"Any kind of attention is good publicity so sure, I'm glad we're broken up," Piggy said. "Now everybody's going to want to know who's Miss Piggy dating? Who's she getting caught snogging with?"
Entering the reality TV game seems a natural fit for Miss Piggy. When she looks at the Kardashians and Jersey Shore casts out there, she feels she paved the way for today's reality stars.
"It's true, [The Muppet Show] has been a role model for a generation of little starlets," she said. "All those little starlet that are running around town, they all model themselves after moi."
As for any behind the scenes tensions between former lovers, Kermit said the show is strictly a business relationship.
"Entirely professional," he said. "I am taking a behind the scenes role in Piggy's show as an executive producer. We're both professional adults."
For her part, Piggy passive aggressively agreed with Kermie's assessment.
"One of us is certainly professional," she said. "Guess who that is. I have no problem working with my ex, okay. It's fine. You know what, dating moi is like flying close to the sun. It was inevitable that Kermit would drop down to the ground while I stay in the heavens."
Kermit did correct Piggy on the Icarus metaphor. "As they say, get burned," he croaked.
The Muppets comes to ABC Tuesday, September 22 at 8.