Star Wars Bits: 'Force Awakens' Worldwide Box Office, DVD Release Date, Felicity Jones' Character, Battlefront Fighter Squadron, Walmart And IMAX Plans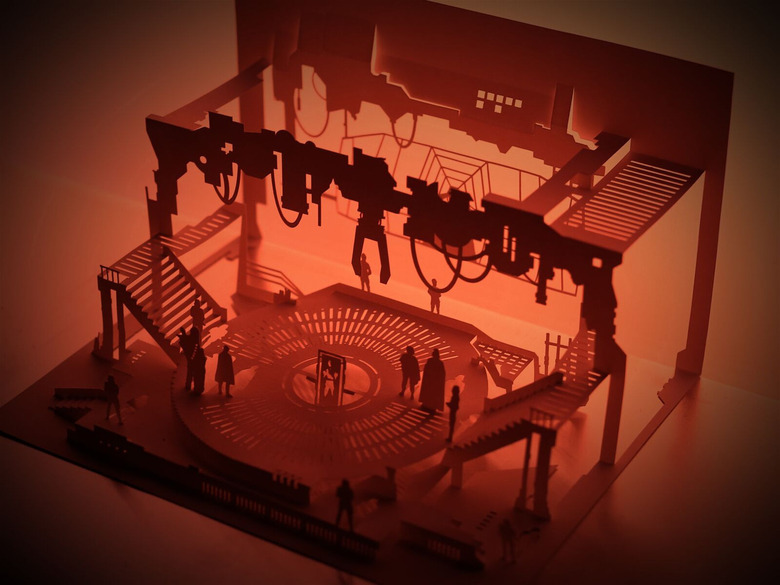 In our next edition of Star Wars Bits, you can find information about the following:
How much money will Star Wars: The Force Awakens Make at the worldwide box office? Can it beat Avatar or Titanic?
Details and aspect ratio comparison for the Star Wars: The Force Awakens IMAX release.
A new Star Wars Battlefront video which seems to tease a new Squadron Fighter mode.
Walmart is preparing for Force Friday and have apparently informed employees of four Star Wars events to help drive sales.
A New rumored home video release date for Star Wars: The Force Awakens
Spoilers: A new fan theory on who Felicity Jones could be playing in Star Wars: Rogue One.
And of course, the header image which is one of the many paper sculptures created by Kirigami paper artist Marc Hagan-Guirey, a.k.a. Paper Dandy. See more of his work here.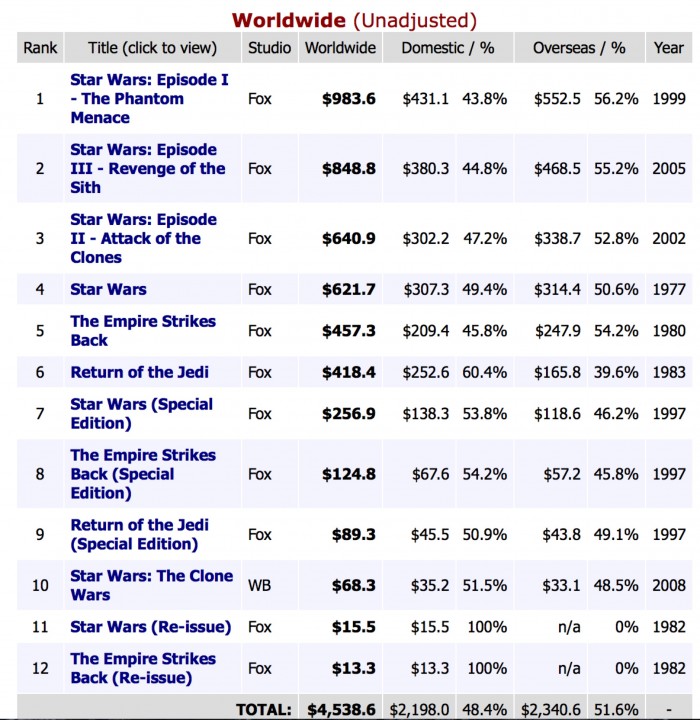 We've already talked about how much Star Wars: The Force Awakens could make domestically, but now Stifel analysts Benjamin Mogil and Kevin Lee Hon Siong are projecting that the film could gross around $2.2 billion globally, a figure which would eclipse the GDP of 22 countries. Here is an excerpt from Business Insider:
Mogil and Siong suggest that there are two major tailwinds for this movie. First, the number of IMAX screens has nearly doubled, and the number of 3D screens has nearly quadrupled since 2009. And second, international markets like China, Russia, and Latin America have seen "significant" screen and box office growth. However, there is one wildcard factor: the movie's release date in China. "There is a strong inverse correlation in Chinese box office performance from the release date duration between the global data and the Chinese data, owing to piracy," Mogil and Siong wrote.
A $2.2 billion box office take would beat Titanic's $2.186 billion and Jurassic World's $1.559 billion, but not Avatar's $2.788 billion. I still think there is a chance that the new Star Wars movie could best Avatar but analysts are skeptical. I'm sure the box office projections will increase as we get closer to December.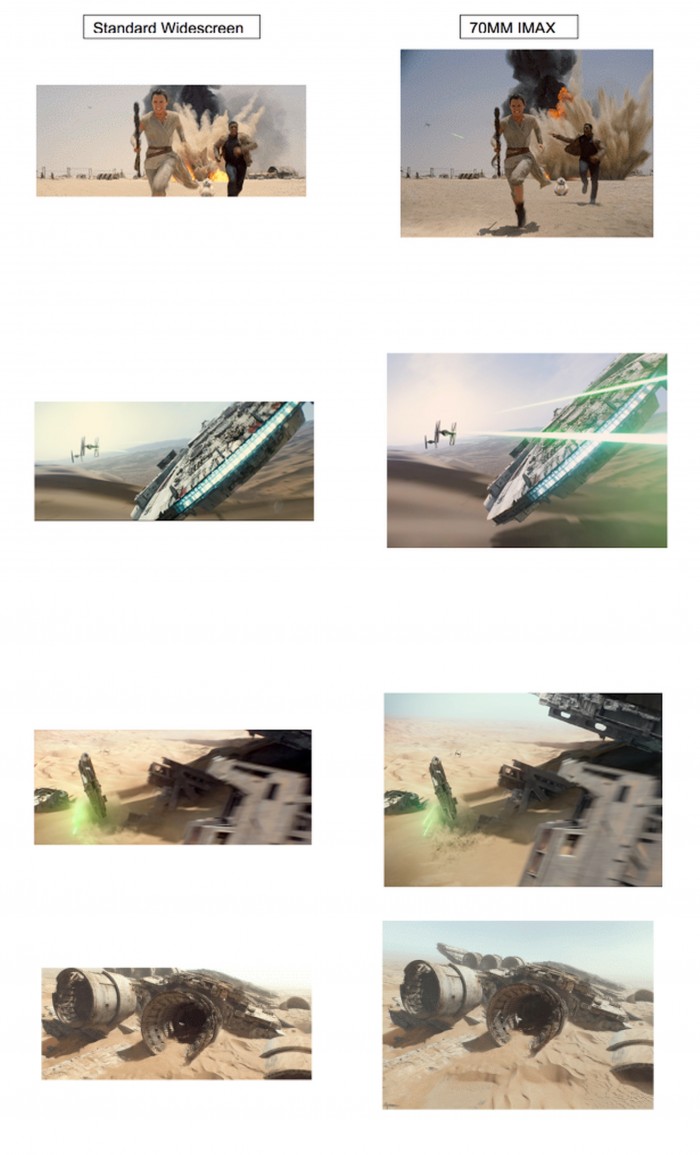 MakingStarWars published a report claiming to be information on the IMAX presentation of Star Wars: The Force Awakens. While the image above included in the report is fun, and accurate, some of the claims in the report are just untrue. The person, who says he was invited to help install The Force Awakens in his local IMAX projector a week upon release and claims he was given the complete specs of the presentation:
Some IMAX theaters will present the film in true 70mm film, presenting the 70MM shot scenes in its full screen glory. While I don't know this to be true, this sounds plausible — although IMAX doesn't have many 70mm IMAX locations left.
There will be two 70MM prints running through the IMAX projector to have the film play in IMAX 3D. That is how IMAX does 3D in 70mm, so that seems accurate. But the report claims "rest assured it's not the gimmick post converted 3D." That is untrue. The film was shot on film and was post converted to 3D. It is post converted 3D. period.
The report also seems to insinuate that the expanded aspect ratio of the 70MM IMAX presentation will not play in the Digital IMAX theaters, which is slightly inaccurate. Digital IMAX should expand to full screen during the one sequence shot with IMAX cameras. Yes, the 70mm IMAX presentation will have a very slightly vertically higher aspect ratio, but not by much.
Now don't get me wrong, I love IMAX. But some of the details here are being misrepresented.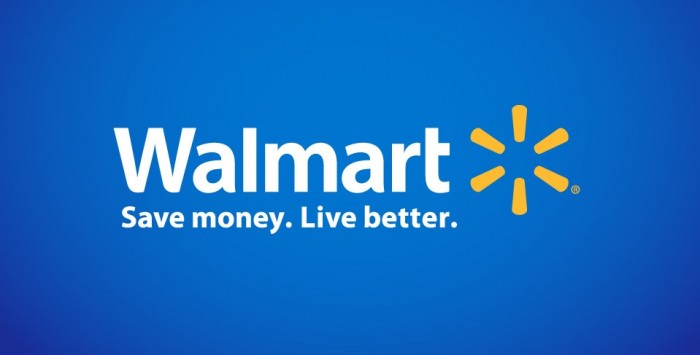 Wal-Mart is apparently already getting ready for Force Friday, the day that all the new Star Wars The Force Awakens toys are unleashed upon the world. MakingStarWars has heard that Walmart employees are being informed about four major Star Wars events to help drive sales:
A Retailtainment Event on Friday, September 4th 2015 at 12:01 am and Saturday September 5th 2015 at 10 am.
Star Wars: Battlefront weekend trading event on November 13th and 14th 2015 near the Entertainment Department.
The Star Wars: Battlefront video game will launch in stores on November 17th 2015 with in-store "Game Play Event."
There are a lot of boring employee specifics, but here is the interesting tidbits:
On September 3rd, the stores are removing all their old Star Wars merchandise. Late in the afternoon on the 3rd they are to start setting the store into Star Wars mode. There will be a young men's t-shirt display and a boy's display. Action figure set up will have a new Star Wars awning. There will be a huge "pallet train" of Star Wars action figures set up in the store prior to midnight on the 3rd.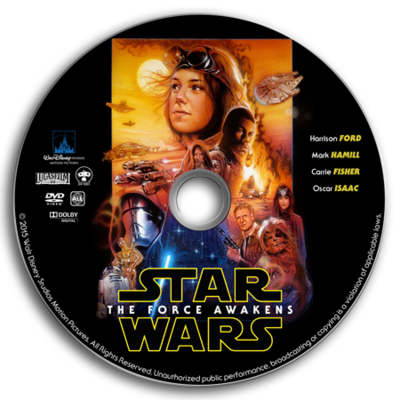 When will Star Wars: The Force Awakens be released on home video? MSW says the Walmart employees are also being told that Star Wars: The Force Awakens will be released on DVD and Blu-ray this Spring. Another source has heard an April 26th 2016 release date. Fake mock-up DVD image via customdvd.
Fans were disappointed to learn that the Star Wars Battlefront video game wouldn't feature space battles. EA has since released the following teaser video (embedded above) showing a new mode of gameplay from Battlefront teasing that "Fighter Squadron is coming". The footage shows X-Wings, A-Wings and TIE Fighters dogfighting above the volcanic world of Sullust. StarWarsUnderworld theorizes that this is a new game mode, similar to the "Blast" deathmatch mode revealed previously.
Hit the next page for possible spoiler discussion and rumors for Star Wars: Rogue One. You have been warned.
Possible spoiler discussion for Star Wars: Rogue One coming up...
you...
have...
been...
warned!!
Okay, here goes:
Earlier this week a rumor was floated by frequent scooper El Mayimbe that Felicitiy Jones' character in Star Wars: Rogue One would be the daughter of the galaxy's most notorious bounty hunter, Boba Fett. Now Movies.com speculates that if that rumor is true, Jones could be playing Sabine Wren from the Disney XD animated series Star Wars Rebels. Yes, she also happens to be a female Mandalorian and she's fighting alongside the Rebels in a time right before the events of Rogue One. Here is an excerpt from the article's theory:
The timing works out, as Rebels takes place not long before those Death Star plans are stolen, just as rebel forces are beginning to form and unite — and we expect to see a lot more of that in season two this fall. Is it possible they're working towards a major reveal regarding her character? Could she be Boba Fett's daughter? They may be a little too close in age — perhaps she's his sister? If so, will she become the first Rebels character to cross over into live-action form? And furthermore, will we see Boba Fett make an appearance on Rebels to help tie it all together?
I'm not sure that the live-action movies will be tied into the animated television series just yet, but who knows. A year ago, Star Wars producer Simon Kinberg told us that there had been some discussions about possible crossovers:
Absolutely there's been conversation about it. That this story could be a story that crosses over into other films, whether it's A New Hope or other movies. And that movies could potentially even enter into our timeline and our moment. It's a big galaxy. So, you know, things are happening all over the place that don't necessarily have to react to each other, the way we react to news around the world. We never meet the Chilean miners that are trapped in that mine. We know about it and the world reacts to it. So each of the different stories has to acknowledge the reality of what's ever happening in that moment in time.
Star Wars Rebels producer Dave Filoni was a little more skeptical when we brought up the idea of Rebels characters appearing in the live action Star Wars films:
I would never say never to that. I mean, now that Lucasfilm is so integrated in story from top to bottom in all different forms of media, we already have had our characters cross over into novels. We're gonna have our crossover into comic books. I would say it's entirely possible. And I would encourage it. I've talked to the creators of the other films going on and, you know, I've always made it clear if you want somebody, just let me know. They can jump over there. I don't care. I'm all for it. Because I think it makes the experience for fans so much stronger. And what a moment it would be to see some of these animated characters up there live on the screen. It would be great for me too.
What do you think? Do you think Jones could be playing the live action version of Sabine? Does this theory make sense? Leave your thoughts in the comments below!