'Entertainment' Trailer: Gregg Turkington Is One Sad Comedian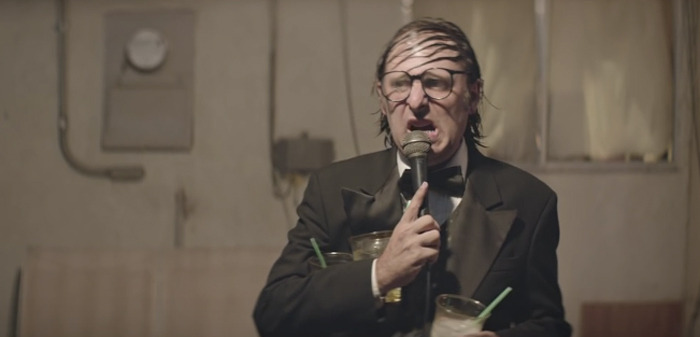 Just a few years ago, Tim Heidecker starred in a bleak and strangely amusing look into the life of a comedian with the indie The Comedy, a Sundance selected film from director Rick Alverson. This time it's Gregg Turkington, better known as stand-up comedian Neil Hamburger, taking us into the tortured psyche of a stand-up comedian, stuck in comedy purgatory.
Alverson is back behind the camera again with Entertainment, and the first trailer for the indie film has just arrived, showcasing Turkington's oddball movie about an aging comedian still struggling as a small-time performer. It's odd and fascinating, but doesn't look like it's going to be everybody's cup of tea. Watch the Entertainment trailer after the jump!
Here's the trailer from Magnolia:
Though Turkington's character is only known as The Comedian in the movie, he's using his alter ego Neil Hamburger, full of "what" and "why" set-up jokes, as the character he becomes when he gets on stage at various depressing venues in the California desert. It makes for a very meta story where real life surely inspired some of the strangeness we see on the screen.
But as weird as this movie seems, it also seems to offer some stark truths about being a performer and the difficulty that comes in finding happiness when you're not living up to the dreams that you once set for yourself. As IndieWire says in their reviews, the film "offers a fascinating look at the tension between personal aspirations and the harsh realities holding them back."
By the way, if you're not familiar with Gregg Turkington or his alter ego Neil Hamburger, there's a chance you just saw him in a hilarious bit part in Ant-Man as Dale, the manager at the Baskin-Robbins where Scott Lang gets fired from in the first 20 minutes or so. Just that single scene shows how gifted Turkington can be with just a little bit of space to work in, so I can't wait to see how he works in this movie.
John C. Reilly, Tye Sheridan, Michael Cera, Amy Seimetz, Lotte Verbeek and Tim Heidecker also star in Entertainment, hitting theaters and iTunes on November 13th.
A broken, aging comedian (Gregg Turkington) tours the California desert, caught in a struggle between being the center of attention and the object of alienation, lost in a cycle of third-rate venues, novelty tourist attractions, and vain attempts to reach his estranged daughter. By day, he slogs through the barren landscape, inadvertently alienating every acquaintance. At night, he seeks solace in the animation of his onstage persona. Fueled by the promise of a lucrative Hollywood engagement, he trudges through a series of increasingly surreal and volatile encounters.