'Fantastic Four' Extended Four-Minute Preview With Bonus 'Deadpool' Tease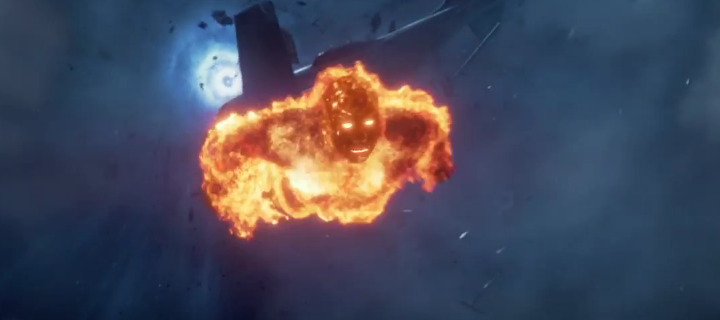 Even though the early buzz on Fantastic Four may be good, 20th Century Fox isn't resting when it comes to pushing the movie on general audiences. A new four-minute sneak preview has just surfaced, which is basically a combination of all the previous trailers with a bit of new footage and longer takes of shots that we've seen before.
But there's a bonus at the end for those who sit through the whole four-minute video (or just fast forward to the last 30 seconds), because Deadpool pops up to let everyone know that they'll also see a trailer for his movie with Fantastic Four this weekend. But we'll end up seeing the red band trailer for that tonight, so stay tuned. In the meantime, watch the Fantastic Four extended preview after the jump!
This collection of footage gives us a little better idea of what happens when Reed Richards (Miles Teller), Sue Storm (Kate Mara), Johnny Storm (Michael B. Jordan), Ben Grimm (Jamie Bell) and Victor Von Doom (Toby Kebbell) teleport to another universe for research. It looks like Doom gets left behind, only to make it back later and wreak havoc on Earth, presumably to merge our universe with wherever the research team traveled the first time.
If you're disappointed in that Deadpool tease at the end because it's just the same footage we already saw in the trailer teaser that dropped yesterday, just with different voiceover, take solace in the fact that you're getting two trailers this week: a red band trailer tonight on Conan and a green band trailer later this week. That should be enough Deadpool fun to keep you satisfied for a bit.
More about Deadpool can be found out in our recap of the Comic-Con panel from last month right here. Or if you want to know more about the science that drives our characters in Fantastic Four, you can check out these previously released promos.
Fantastic Four (directed by Chronicle helmer Josh Trank) drops into theaters August 7th this week.
FANTASTIC FOUR, a contemporary re-imagining of Marvel's original and longest-running superhero team, centers on four young outsiders who teleport to an alternate and dangerous universe, which alters their physical form in shocking ways. Their lives irrevocably upended, the team must learn to harness their daunting new abilities and work together to save Earth from a former friend turned enemy.