Frank Grillo Will Purge Again In 'The Purge 3'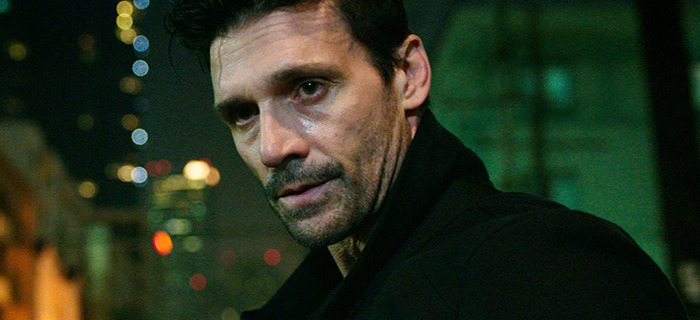 Writer/director James DeMonaco won't be the only one returning to purge again when The Purge 3 hits theaters next summer. The creator of the sleeper Blumhouse franchise made the first two films in the series and will make the third, and he's bringing The Purge: Anarchy actor Frank Grillo with him. 
For those out of the loop, the Purge films depict a version of America slightly in the future, in which most crime and poverty has been eliminated by violent lawlessness. On one night every year, all crime is legal for twelve hours, from 7pm to 7am. Those twelve hours conceal the deaths of many people on the margins of society.
Variety reports that Grillo is back, and while it would be fun to see The Purge 3 go full-on b-movie style and bring Grillo on to play a new character, this is in fact a proper sequel. So the actor will once again play Sergeant Leo Barnes, who in the last film takes to the streets on purge night, originally on his own vengeful mission, and ends up helping out others who are trapped outside a safe zone during those very dangerous hours.
We don't know much about the story of The Purge 3 at this point. The second film ended with the revelation of a conspiracy to see even more people killed by the purge each year, and presumably we'll see the return of a few other characters as that knowledge is carried forward. The anti-purge resistance forces could definitely mount a greater campaign in the third story as well.
Variety reports that scheduling turned into a tricky deal to get Grillo into the film; the actor recently wrapped Captain America: Civil War, and shooting plans for the DirecTV show Kingdom nearly got in the way of the September shoot for The Purge 3. That being the case, we wonder if the script for this third movie has been in flux waiting to see if the actor would be available. Presumably he'll be one of the leads, which means the story could be contingent upon him in some way. Regardless, things worked out, so Grillo's character will have to deal with a long violent night when the film shoots later this year.
The Purge 3 opens from Universal Pictures and Blumhouse Productions on July 1, 2016.