'Fantastic Four' Early Buzz: First Reviews Are Mostly Negative [Update]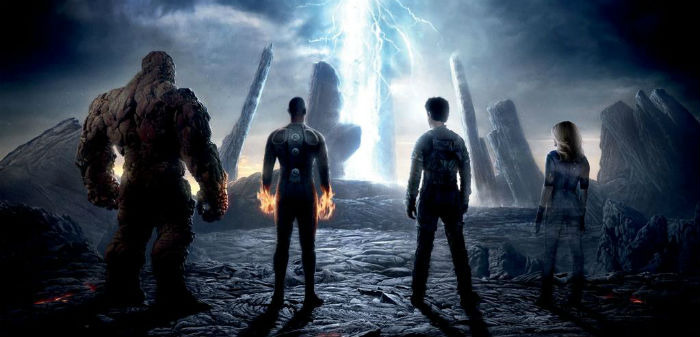 This week brings the release of 20th Century Fox's reboot of the comic book franchise Fantastic Four from director Josh Trank. We haven't heard much about the quality of the film as far as audiences are concerned, but some of the buzz behind the scenes had people worried and skeptical about the movie actually delivering a satisfying reboot. And now that the critic reviews are starting to come in, it looks like fans have something to worry about. Get the Fantastic Four early buzz after the jump!
Update from Editor Peter Sciretta: Here are some more review quotes and early buzz from Fantastic Four:
first 2/3 of FANTASTIC FOUR had me. The 3rd act is like a different movie & not in a good way. Worth seeing. But keep expectations in check.

— Steven Weintraub (@colliderfrosty) August 5, 2015
I'm really curious about the behind the scenes of the FANTASTIC FOUR 3rd act of because it's so disappointing compared to rest of the movie.

— Steven Weintraub (@colliderfrosty) August 5, 2015
The Playlist: "There is a constant debate among comic book and industry observers about whether or not a true auteur driven effort could or should be implemented in expensive superhero movies, or whether a studio, or someone like Marvel guru Kevin Feige, has a right to dictate a particular artistic direction. The answer, of course, is that a compromise that is satisfying to both parties is the ideal resolution. And if anything, "Fantastic Four" is an example of what happens when a director and studio are clearly not working in sync. Often out of alignment, and missing a clear creative guiding vision, "Fantastic Four" is not ready for the multiplex battle ahead. "Variety: "Fox's attempt to revive an inherited Marvel property feels like an also-ran in the comicbook-adaptation sweepstakes." ... "Ultimately, Fox's stab at reviving one of its inherited Marvel properties feels less like a blockbuster for this age of comics-oriented tentpoles than it does another also-ran — not an embarrassment, but an experiment that didn't gel. And having seemingly missed twice in trying to get "Fantastic Four" right, the studio, unlike Reed, might want to think seriously before making any more trips back to the drawing board."The Hollywood Reporter: "Fantastic Four feels like a 100-minute trailer for a movie that never happens." ... "Nothing that Trank and his co-writers Jeremy Slater and Simon Kinberg have come up with does anything to alleviate the feeling that the titular quartet simply don't con"The Guardian: "a dawdling indie drama dressed up in superhero garb" ... "The latest Marvel comic-book adventure is straining for indie credibility while moving at a glacial pace – wasting some fine actors in the process"Time Out: "This reboot of the Marvel superhero franchise is a film of two halves: the first likeable and fun, the second tiresome and loud" ... "Frankly, it's amazing the result is watchable at all."The Wrap: "Latest reboot of Marvel property ends just as it's finally getting started" ... " offers glimmers of good things to come in its final moments, but only after the audience has slogged through yet another dispiriting origin story and yet another Earth-rescuing battle in a bland, CG-created nowhere land."Here is the original story from Ethan Anderton:
However, if some early buzz from an advanced screening that happened in the past couple days is any indicator, then the film starring Miles Teller, Kate Mara, Michael B. Jordan and Jamie Bell may turn out to be better than we thought.  Bleeding Cool pointed our attention to some reactions, and there's not really anything negative to say so far, at least from those being vocal on social media:
The #FantasticFour movie was amazing!!!!

— The Plug Named Jimmy (@theplugnamedjim) July 31, 2015
These all seem to be mostly regular moviegoers, too, so we can't say that the positive reaction is coming from people in the industry attending an intentionally hyped world premiere screening. But at the same time, since this seems to be some sort of special event in Atlanta put together by the studio, there's a chance some of these people are being very positive simply because they were treated to a free advanced screening of a big movie. It could go either way.
Frankly, I would love for this movie to actually be good. You never want a movie to be bad, and Fantastic Four deserves a good film adaptation. This young cast is a great assembly of talent to make it happen, and I hope Trank has the start of something fun here. The previously released trailers haven't done much to impress me so far, but maybe that's just mediocre marketing at work and not evidence of a bad movie.
If you're hoping to catch Fantastic Four as soon as possible, tech company Nimble Storage seems to have some advance screenings in a handful of cities around the United States that you might be able to get into. In addition, Cineworld in the United Kingdom is offering advanced screenings to members of the Unlimited loyalty program. So we'll likely be hearing more buzz about the movie leading up to its debut in theaters this weekend.
Otherwise, most theaters will have early evening screenings beginning this Thursday. So if you don't want to brave the crowds in theaters this weekend (assuming Fantastic Four does well at the box office), then that's the best chance you have to see it right away. If not, Fantastic Four will be in theaters everywhere on August 7th.