Cool Prints: Dave Perillo's 'Feast' And Scott C's 'Mad Max: Fury Road'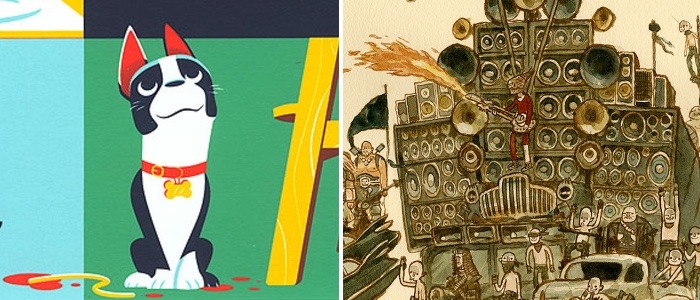 Two of my favorite pop culture artists are gearing up to release prints based on two of the best films released over the last year. Dave Perillo created an awesome poster for Patrick Osborne's Disney animated short film Feast (maybe my favorite animated film from Disney at this point, yes ever) and Scott C created a massive Great Showdown tribute to George Miller's Mad Max: Fury Road. Find out details on how you can obtain both of these prints, and see the artwork in high resolution, after the jump.
Dave Perillo's officially licensed Feast print will be released by Cyclops Print Works at D23 Expo. Unfortunately there is no other information at this time. We don't know how much it will cost or how limited the print run will be, but their Tom Whalen Lilo and Stitch print had a run of 250 and their Stacey Aoyama/Eric Tan Inside Out print had a run of 305, so expect something around those numbers.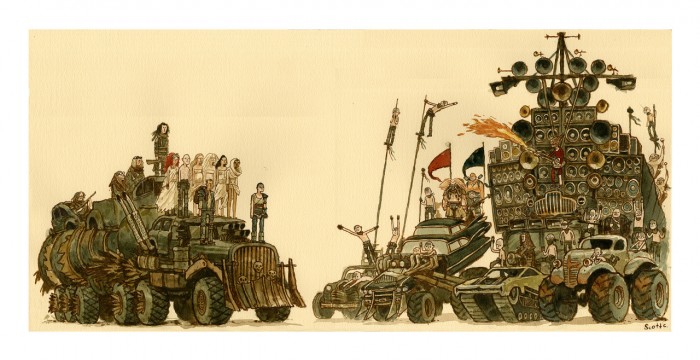 As for Scott C's 12 x 24 inch Great Showdown tribute to Mad Max: Fury Road, we have some great news for you. Unlike most of the popular Mondo prints which sell out in minutes, Scott is again offering anyone and everyone tho buy this latest print. Thats right, Scott C's Mad Max: Fury Road will be a "timed release," which means that anyone can buy the print as long as you purchase it within a 72 hour window. Once that timeframe is over, they will never be sold again. The signed and numbered edition size will be determined by the amount sold during the release.
So when can you buy Scott C's Mad Max Fury Road print? It will become available at the stroke of midnight (EST) / 9 PM (PST) Tuesday, August 4th, and stay available through Friday night, August 7th at midnight (EST) / 9 PM PST. You will be able to buy the print in Scott C's online shop for $70.