'Peace Officer' Trailer: A Timely Documentary About Police Militarization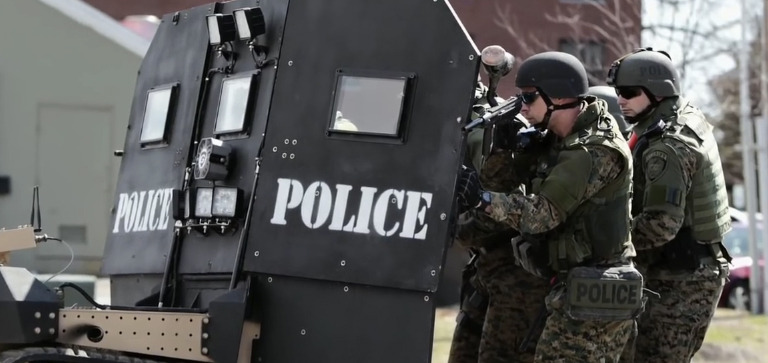 All over cable news networks, blogs, newspapers and more, the topic of police force militarization has become a hot button issue sparking a lot of lively debate. Now a new documentary hopes to dive into the subject in order to shed light on just what's going on among today's American police ranks.
Peace Officer debuted at the SXSW film festival, landing the Audience Award and Grand Jury Award, and it looks like quite the timely and thorough examination of a prominent topic of discussion that requires our full attention. Watch the Peace Officer trailer after the jump!
Here's the documentary trailer from JoBlo:
The documentary is told from the perspective of William Lawrence, a former sheriff who was responsible for founding his state's first SWAT team. But his creation eventually brought tragedy into his life 30 years later when a lethal force standoff resulted in the death of his son-in-law Brian. Now Lawrence is investigating militarized police and whether or not they're doing more harm than good in these increasingly tense times.
Directors Brad Barber and Scott Christopherson seems to have taken great care to examine this issue without venturing into biased territory, especially with a key player who has gone from one side of the spectrum to the other on this issue. The Playlist calls Peace Officer "a refreshingly objective and levelheaded documentary that's as culturally relevant as it is expertly paced and captivating." Sounds like exactly what we need for this sensitive issue.
Regardless of what side of the aisle you find yourself on politically, this looks like a fascinating and revealing documentary for your consideration. If you want another look at the documentary, you can also check out a slightly longer trailer over here from when the film debuted at SXSW earlier this year.
Peace Officer is a documentary about the increasingly militarized state of American police as told through the story of "Dub" Lawrence, a former sheriff who established and trained his rural state's first SWAT team only to see that same unit kill his son-in-law in a controversial standoff 30 years later. Driven by an obsessed sense of mission, Dub uses his own investigation skills to uncover the truth in this and other recent officer-involved shootings in his community, while tackling larger questions about the changing face of peace officers nationwide.
Peace Officer opens on September 16th.