Ronda Rousey To Star In Her Own Autobiographical Movie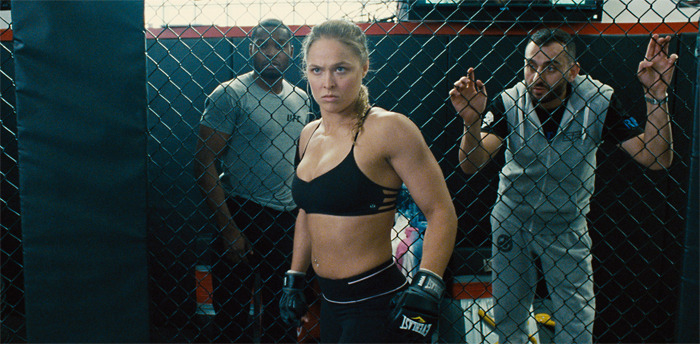 We may receive a commission on purchases made from links.
This past weekend, UFC fighter Ronda Rousey proved just how great she is in the ring when she took down her opponent Bethe Correia in just 34 seconds. And now she's getting another career boost, this time meshing her life as a fighter with her blossoming acting career
Paramount Pictures has just snagged the rights to Ronda Rousey's best-selling autobiography My Fight/Your Fight, but what's interesting about this project as opposed to other biopics is that Rousey will be starring in the film herself. Find out more about the Ronda Rousey movie after the jump!
If you're not really familiar with Rousey, here's the synopsis of her book:
Marked by her signature charm, barbed wit, and undeniable power, Rousey's account of the toughest fights of her life—in and outside the Octagon—reveals the painful loss of her father when she was eight years old, the intensity of her judo training, her battles with love, her meteoric rise to fame, the secret behind her undefeated UFC record, and what it takes to become the toughest woman on Earth. Rousey shares hard-won lessons on how to be the best at what you do, including how to find fulfillment in the sacrifices, how to turn limitations into opportunities, and how to be the best on your worst day.
Packed with raw emotion, drama, and wisdom this is an unforgettable book by one of the most remarkable women in the world.
Rousey wrote the book with her sister Maria Burns Ortiz, a journalist who has written for numerous publications including ESPN.com, Fox News Latino, and the Associated Press, not to mention being named the National Association of Hispanic Journalists' Emerging Journalist of the Year.
Variety reports Dawn of the Planet of the Apes and The Wolverine scribe Mark Bomback will be adapting the book for the big screen, but he's just started on the script, so it might be a little while before we see this one hit the big screen.
As for Rousey's future, she has one more 2015 fight planned, followed by shooting a role in Peter Berg's action thriller Mile 22 in January. The fighter turned actress is just coming off a sizeable role as herself in the Entourage movie, not to mention a key role as a villain in Furious 7 as well as The Expendables 3. But playing herself in a biopic will be unlike anything she's done before (aside from the fact that it's her own life she'll be portraying on the big screen).
Admittedly, it seems a little strange for Rousey to be playing herself at this stage in her career, mostly because it seems like she still has a lot more success ahead of her. Plus, it's rare for the real life subject of the movie to play themselves in a dramatized version of their life story.
(A couple examples: Eminem did it. Jackie Robinson played himself in 1950, in The Jackie Robinson Story. Evel Knievel wanted to star in the 1971 film about his life. George Hamilton played that role, but Knievel did play himself in a 1977 film that fictionalized his exploits.)
In this case, having Rousey starring and producing (along with Pacific Rim producer Mary Parent) should lend quite a bit of authenticity to the proceedings.
Honestly, I just hope the movie shows the adorably geeky side of her personality. Because Rousey loves cosplaying as anime characters and is also an avid player of Pokemon and World of Warcraft. But for obvious reasons, I wouldn't recommend making fun of her for it.