Disney Buys More Land Across The Street From Disneyland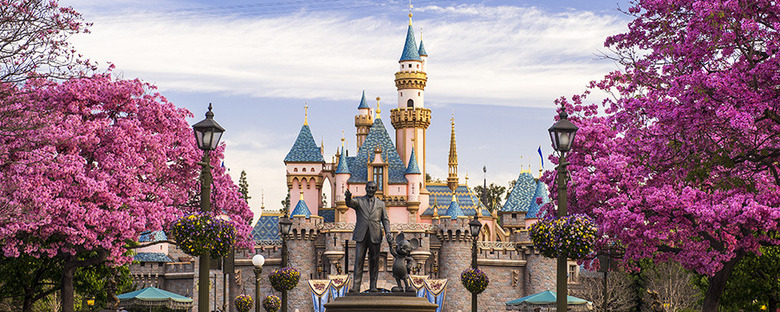 In June, we told you that The Walt Disney Company was considering a $1 billion-plus expansion of the Disneyland Resort, which would bring unknown new attractions, a new parking structure with at least 5,000 parking spots and other improvements to the Southern California-based theme parks.
The Disney Company asked the city of Anaheim for an extension on their deal to forgo a tax on theme park admission tickets for another 30 years, which was approved last month by a 3 to 2 vote by the Anaheim City Council. Following the no-tax extension, it has been revealed that Disney has purchased two large pieces of land near the Disneyland park, but what does this mean? Find out if this new Disneyland land purchase could mean new Marvel and Star Wars attractions are being planned for the resort.
The OC Register recently reported that Disneyland Resort has acquired 1515 and 1585 South Manchester Avenue for the purchase price of $48 million.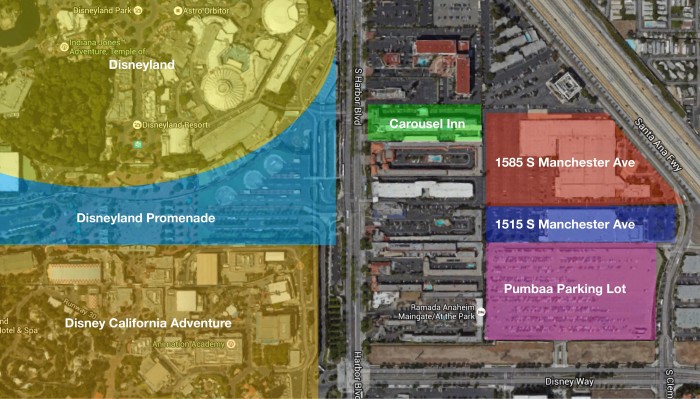 The property, which is along the south side of the I-5 freeway, near South Clementine Street, is connected to a bunch of other Disney-owned Anaheim property, including the Pumbaa Parking Lot and the 131-room Carousel Inn and Suites on South Harbor Boulevard, which was purchased by Disney in April for $32 million. I have photoshopped the image above showing how the new purchases (red and purple) fit in with the previously owned Disney property.
One could theorize that the recent Carousel Inn purchase will connect the new land to the park across the street. This could be done with an underground passageway or a bridge (like the one used in Downtown Disney) so that the busy Harbor Boulevard isn't disturbed by more foot traffic. But before you get excited about the possibility of a third park or possibly a Thor-themed Rainbow bridge to a Marvel themed land across the way, that doesn't appear to be in the plans.
So what might this mean for Disneyland Resort? According to the Anaheim Planning Department, the 158,708-square-foot building on the new land purchased will be used for office and warehouse support for Disney's theme park and hotel operations. And we have heard previously that the Pumbaa Parking Lot is going to become a new parking structure that the resort desperately needs at this point.
Okay, so so far not too exciting right? But if Disneyland is offloading its backstage offices to this area this means they could build new attractions in some of the areas in Disneyland resort which currently house their backstage offices. I have again photoshopped the below image to show you some of the current backstage areas and offices in Disneyland park. I'm not an expert in this area, so I may have tagged a little bit of a ride building somewhere, but I think the image is mostly correct: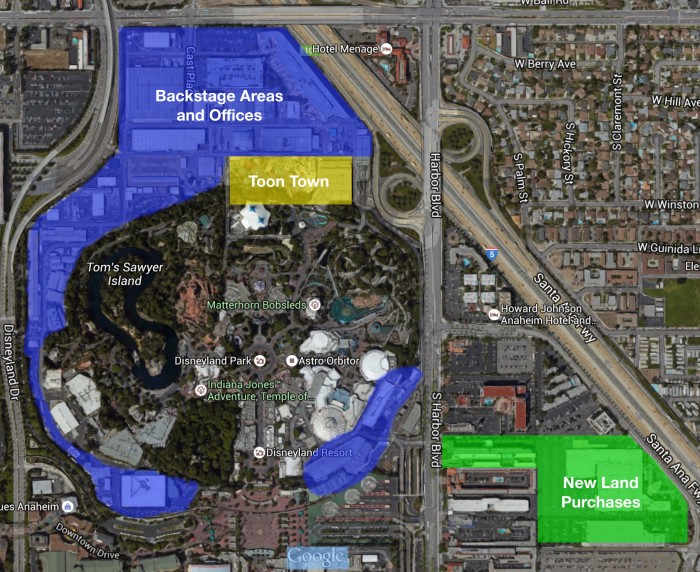 So lets imagine that Disney is relocating some of their backstage office areas to the new land (green) as we believe to be the case. This leaves a significant amount of the current backstage office areas (purple) open for new construction (rides, attractions and hotels).
We had already heard rumors that  Toontown would close in 2016, with the plans to replace the area with a new Star Wars themed land. And those rumors easily fall in line with the Mouse House's recent purchases. Disney could not only build a Star Wars land in the Toon Town land, but expand further into the backstage and office areas at the top of the park.
Disney has promised that the new construction would begin by late 2017 and would finish no later than December 2024.  City records show that Disneyland already has used 2.6 million of its 3.5 million square feet available, but thats still a lot of room to grow.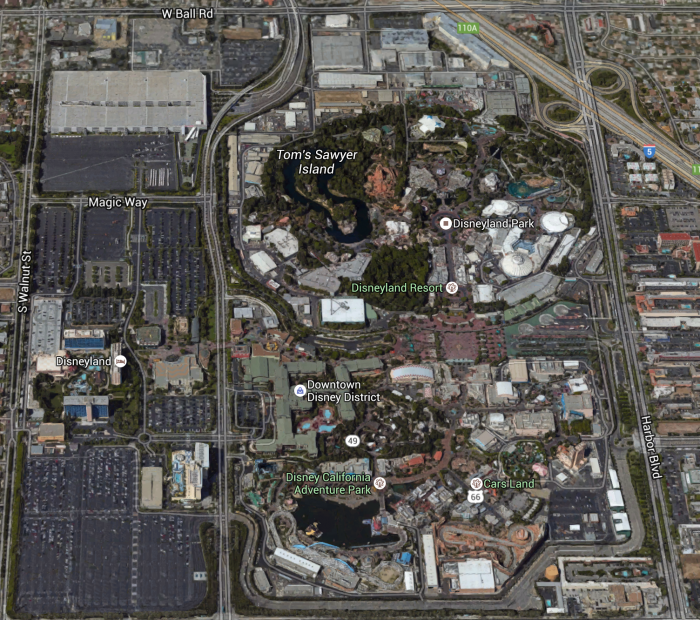 On the other hand, California Adventure has approval for 3 million square feet of theme-park space but has used only 900,000. Notice backstage areas like the one to the right of Cars Land and below Tower of Terror which could possibly used for more attractions, restaurants and stores.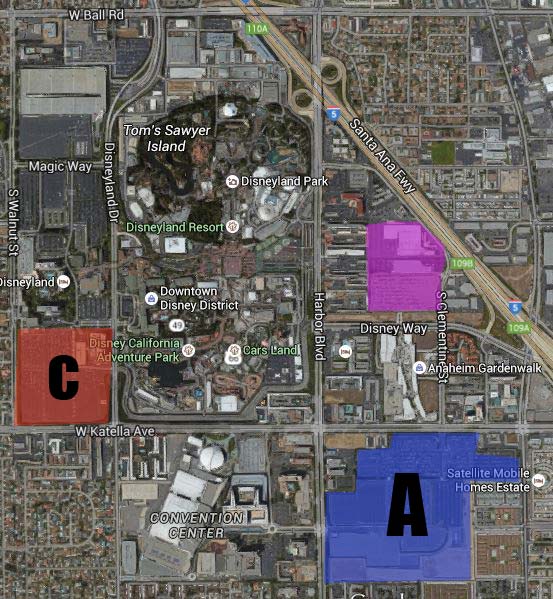 TheDisneyBlog has some more outrageous theories about the future of Disneyland Resort. They theorize that Disneyland adding a new parking structure could allow the Mouse to do something with the Lion King parking lot behind Paradise Pier Hotel (area C in red in their image above) and the remote parking lots (area A in blue) south of Katella and East of Harbor Blvd. The blog suggests the areas could house a third theme park or the long rumored water park.
D23 Expo will take place later this month in Anaheim and Disney is expected to make announcements about the future of Disneyland Resort at their Parks and Resorts Presentation. But that panel is likely to also be jam-packed with details of Shanghai Disneyland and Disney World's addition of Avatar Land, so we might not get too many details.
Here is some further information from the Anaheim City proposal.