'Deadpool' Red-Band Promo: The Merc With A Mouth Teases His Own Trailer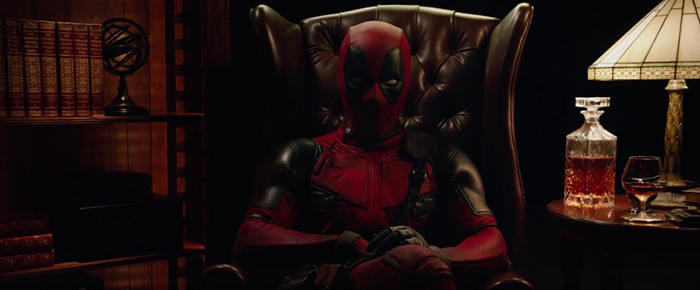 Fox has dropped a red-band promo for the Deadpool trailer, featuring Ryan Reynolds in costume as the movie's vulgar messed-up merc. He's here to introduce his own trailer, which seems ridiculous for most movies, but is actually just what we'd expect from Marvel's fourth-wall breaking character. Check out the Deadpool trailer tease below.
This is basically the same trailer intro seen by Comic Con audiences a few weeks ago; the dialogue has been changed a bit, but otherwise it's the same footage.
Since this is basically a single shot you don't see very much, but the tone of the teaser gets across exactly what we're expecting from the film: a little bit odd, with some vulgar jokes and Reynolds enjoying the hell out of wearing that suit. We think that's Reynolds in the suit, anyway. It could be anyone. It could even be a CG character, as in the proof-of-concept footage that got the movie greenlit. But we'll accept the idea that it's Reynolds in that creaky red leather.
We know there are two versions of the Deadpool trailer hitting this week — one all-ages edit, and one red-band cut. We expect the latter to be a lot like the Comic Con promo the above footage originally introduced, or at least very close. Which means you'll see most of the film's characters, including Negasonic Teenage Warhead, and Colossus.
In the meantime, the promo's YouTube page even has a little song for fans, and you can check out some other Deadpool images here and here.
When you're stuck in a day that's gray, and lonely...Just stick out your chin, and grin,and say...everything looks sexier in red.Deadpool opens on February 12, 2016, with a cast that includes Morena Baccarin, Ed Skrein, T.J. Miller, Gina Carano, and Brianna Hildebrand.
Based upon Marvel Comics' most unconventional anti-hero, DEADPOOL tells the origin story of former Special Forces operative turned mercenary Wade Wilson, who after being subjected to a rogue experiment that leaves him with accelerated healing powers, adopts the alter ego Deadpool. Armed with his new abilities and a dark, twisted sense of humor, Deadpool hunts down the man who nearly destroyed his life.