Victorian 'Sherlock' Special Is A Ghost Story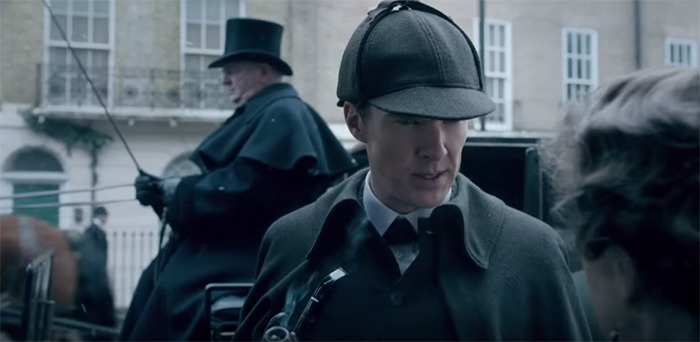 Steven Moffat returned to the Television Critics Association summer press tour, this time for the upcoming Sherlock special, which takes their modern day Sherlock Holmes back to the original Victorian era. Details are sparse, as even the release date for the latest Sherlock hasn't been set yet, but Moffat did reveal that the Victorian setting made it more aesthetically appropriate to do an Arthur Conan Doyle ghost story.
"The main difference I would say, the only temperature change moving it from Victorian and Modern is ghost stories work better in the Victorian setting," Moffat said. "Doyle stories that are scary chillers we haven't done much. Victorian era gives us a chance to do a creepy one, a scary one."
One other change Moffat suggested is that Holmes' character, played by Benedict Cumberbatch, is a bit more proper back in the day. "Sherlock Holmes has the manners of a Victorian gentleman which he doesn't have in modern day, so he's less brattish," Moffat said. "I'd say this Sherlock is a little more polished. He operates like a Victorian gentleman."
The modern day Sherlock was a landmark for the mystery franchise and a critical and popular smash. Now Moffat joked that a Sherlock Holmes period piece is refreshingly new.
"We checked the books and discovered we got it wrong," Moffat joked. "I said to Mark [Gatiss] we should've read them first. [We did this] just because we can, really. We said, 'Could we maybe do one scene or a dream sequence?' Then we said why don't we just do it? We never bothered explaining why he's in modern day London. Why explain why we're in Victorian [London]?"
Despite this refreshing classical take on Sherlock, Moffat has no plans to do it again. "Really this is a one-off unless we go mad and set it in the 1940s and have him fight Hitler," Moffat said. "Nothing's inconceivable if you have bad taste. No, we go back to doing Sherlock next year unless I'm lying or we change our minds."
The only clip Masterpiece could show from Sherlock was the same one shown at Comic Con, also embedded above: a vague scene of Sherlock and Watson (Martin Freeman) returning home to a Snowy 221B Baker Street, greeted by Mrs. Hudson (Una Stubbs). They banter about Hudson being a plot device, which Moffat says he got from the original Arthur Conan Doyle stories.
"Doyle started that," Moffat said. "He's criticizing the story. 'You're making that up.' I thought that was the coolest thing, the hero criticizing his own story. Transferring it back to its original era we realized the women don't speak. Mrs. Hudson has one line. We brought the Una Stubbs version and Mary, after her first story, doesn't really say anything. In one story she gets her husband's name wrong in one of the great continuity errors in history. [We had to address] characters who don't really have a place in the original."
While busy doing Hamlet on stage, Cumberbatch recorded a greeting for the TCA, in which he name dropped familiar TV critics predicting the questions they might ask. His deadpan responses included:
Now that he's such a big movie star doing Star Trek and Doctor Strange, how does he still have time for Sherlock? "Duh"
What Victorian technology will apply to Sherlock's crime solving? "Ear trumpets, and no comment."
Will Moriarty appear in the Victorian era Sherlock? "No comment."
Sherlock is coming soon...ish, according to PBS and Masterpiece.