Watch The Red Band Trailer For 'Drunk Stoned Brilliant Dead: The Story Of National Lampoon'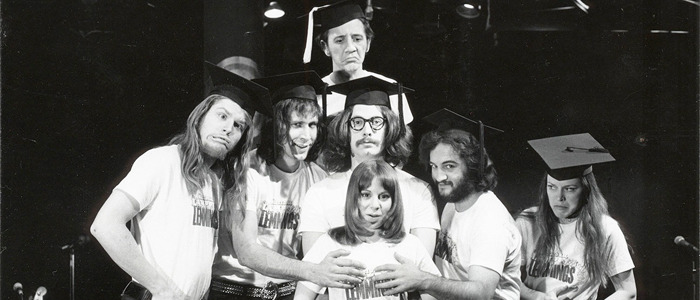 This past week, the reboot of Vacation hit the big screen, but it's not a National Lampoon production anymore. The once thriving name in laughs has since become mostly a comedy memory, known for introducing us to bold and controversial material, future film and television stars, and a film franchise that took us into one of the craziest fraternities and also on one of the best road trips in the history of cinema.
Now a new documentary called Drunk Stoned Brilliant Dead: The Story of National Lampoon is on the way to theaters and VOD after a premiere at the 2015 Sundance Film Festival earlier this year, and the first red band trailer is now online. Watch the National Lampoon documentary trailer after the jump!
As someone who is fascinated and obsessed with the comedy world, from feature films to improv to stand-up, this was exactly the kind of documentary I was hoping for.
It dives deep behind the scenes of National Lampoon with all the key players, from Chevy Chase to P.J. O'Rourke to Kevin Bacon (yes, he had a role in Animal House), not to mention influenced comedic talents like Judd Apatow, with proper recognition paid to some who aren't anymore, like Saturday Night Live and Animal House star John Belushi.
Germain Lussier called the movie "a must-watch for anyone interested in the history of pop culture" when he caught it back in January. Meanwhile, my own review also said it was "a must-see for comedy nuts, but just as enjoyable for audiences who like to laugh and are interested to know more about some of the most iconic comedy stars to ever work in show business."
The documentary is a time capsule to a period of time in comedy that was so bold and irreverent that we may never see the likes of it ever again in these hyper-sensitive, overly politically correct times, and it's a fascinating profile straight from the mouths of those who were there when it happened.
From the 1970s thru the 1990s, there was no hipper, no more outrageous comedy in print than The National Lampoon, the groundbreaking humor magazine that pushed the limits of taste and acceptability – and then pushed them even harder. Parodying everything from politics, religion, entertainment and the whole of American lifestyle, the Lampoon eventually went on to branch into successful radio shows, record albums, live stage revues and movies, including Animal House and National Lampoon's Vacation. The publication launched the careers of legends like John Belushi, Bill Murray, Chevy Chase, Christopher Guest and Gilda Radner, who went on to gigs at Saturday Night Live and stardom.
Director Douglas Tirola's documentary about the Lampoon, DRUNK STONED BRILLIANT DEAD: THE STORY OF THE NATIONAL LAMPOON, cleverly chronicles its founding by two former Harvard students, its growth, demise and everything in between. Told thru fresh, candid interviews with its key staff, and illustrated with hundreds of outrageous images from the mag itself (along with never-seen interview footage from the magazine's prime), the film gives fans of the Lampoon a unique inside look at what made the magazine tick, who were its key players, and why it was so outrageously successful: a magazine that dared to think what no one was thinking, but wished they had.
Drunk Stoned Brilliant Dead hits theaters and VOD on September 25th.