'Robin Hood: Origins' Eyes Taron Egerton, Nicholas Hoult, Jack Huston, And More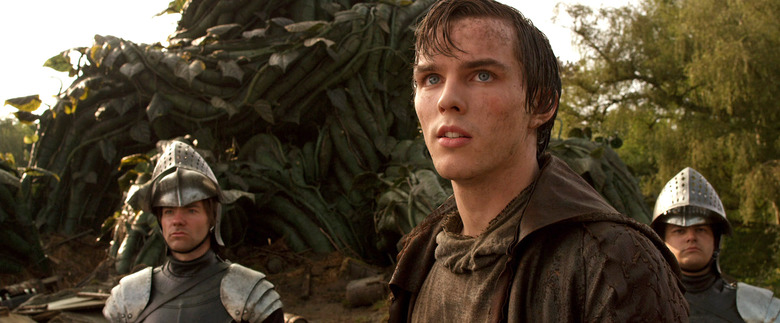 For the past several months, there have been four Robin Hood movies in development and not a single Robin Hood between them. That might be about to change, however, as one of the four — Lionsgate's gritty, revisionist Robin Hood: Origins —  is finally closing in on a lead.
Among those on the production's radar are Taron Egerton, Jack Reynor, Nicholas Hoult, Jack Huston, and possibly Dylan O'Brien. Otto Hathurst (Peaky Blinders) is directing. More about the Robin Hood Origins shortlist after the jump. 
Written by Joby Harold, Robin Hood: Origins imagines the legend as a soldier who returns from the Crusades to discover that Sherwood Forest has become overrun by corruption and evil. He puts together a band of outlaws to become the hero Sherwood Forest needs. The project has been likened to The Dark Knight, because of course it has. Leonardo DiCaprio and Jennifer Davisson are producing along with Harold and Tory Tunnell and Basil Iwanyk.
Now let's run down the list of hopefuls:
Taron Egerton was a relative unknown until he broke out in a big way this year with Kingsman: The Secret Service. Since then he's been working on more serious-minded dramas like Testament of Youth, Legend, and Eddie the Eagle. If Kingsman gets a sequel, it could get in the way of Robin Hood: Origins.
Jack Reynor was similarly obscure until 2014, when he showed up in Transformers: Age of Extinction to teach us all about statutory rape laws in Texas. His upcoming roles include Ben Wheatley's Free Fire and Andy Serkis' Jungle Book: Origins. Deadline says he's the only one of the bunch who's already met with Bathurst.
Nicholas Hoult is currently shooting X-Men: Apocalypse, in which he reprises the role of Hank McCoy / Beast. He was in this summer's Mad Max: Fury Road and will be seen again in next month's Dark Places. He previously starred in the gritty, revisionist take on Jack and the Beanstalk, Jack the Giant Slayer.
Jack Huston is best known for playing Richard Harrow on HBO's Boardwalk Empire. Next up for him are Pride and Prejudice and Zombies and Ben-Hur. He recently became about the 587th actor to drop out of The Crow reboot. (Which may not happen at all now, but that's another story.)
Dylan O'Brien shot to fame on MTV's Teen Wolf, and already has a franchise of his own in The Maze Runner. The second installment, subtitled The Scorch Trials, opens this fall. Depending on when the third (and probably last) Maze Runner movie shoots, it could conflict Robin Hood: Origins.
Robin Hood: Origins is competing with Disney's Nottingham & Hood, described as a Pirates of the Caribbean-style adventure; Sony's Hood, which is supposed to set up a Marvel-style shared universe; and Warner Bros.' untitled Robin Hood pic, which has Will Beall (Aquaman) on board to write and Dan Lin (The Lego Movie) set to produce.
So far, Robin Hood: Origins seems to be the furthest along, since it's the only one with a director. Lionsgate is eyeing an early 2016 start for the film. No release date has been set.