'Sleeping With Other People' Trailer: Jason Sudeikis Shows Alison Brie Some Special Moves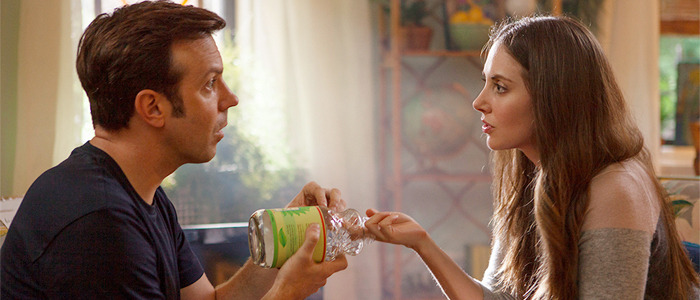 One of my favorite films from this year's Sundance Film Festival was the raunchy romantic comedy Sleeping with Other People, starring Jason Sudeikis and Alison Brie. Thankfully, IFC Films picked up the indie from the festival, and you'll be able to see it in theaters in just a few weeks.
In the meantime, a new international trailer for the film has just surfaced, and be prepared to watch it somewhere privately, because even though it's not an official red band trailer, it's still a little NSFW, due to some pretty risque conversation topics. The major culprit is Sudeikis explaining to Brie how to touch herself in a very intimate way.
Watch the international Sleeping with Other People trailer after the jump!
Here's the trailer from La Belle Company (via The Playlist):
The good news is that today is National Orgasm Day, so this trailer fits right in with the day's, uh, activities. This movie is like a much more explicit When Harry Met Sally, but without going overboard. It also has a lot of heart, and Jason Sudeikis proves that he's quite the charming leading man, while Alison Brie makes a case for her status as a leading actress as well.
If you need anymore convincing, I suggest watching the first US trailer from last month, and not just because it has a quote from my Sundance review (back when I was at another outlet). This is a great date movie, as long as it's with someone you've been in a relationship with for awhile, with a lot of laughs and genuine romantic sparks.
Amanda Peet, Adam Scott, Natasha Lyonne, and Jason Mantzoukas also star in the film written and directed by Leslye Headland (Bachelorette), and it hits theaters on August 21st.
Years after impulsively losing their virginity to each other in college, Lainey (Alison Brie) and Jake (Jason Sudeikis) meet at a support group in New York ("What's a nice girl like you doing at a sex addicts meeting?"). A spark resurfaces, but they've walked this road before. Abject failures in romance who lead lives of serial infidelity and self-sabotage, they agree to a platonic friendship to mutually support their recovery—and what's more supportive than teaching your friend proper self-stimulation? Can love bloom while you're sleeping with other people? Lainey and Jake may have struck a deal that proves easier said than done.