AMC Releases First 'Better Call Saul' Season Two Photo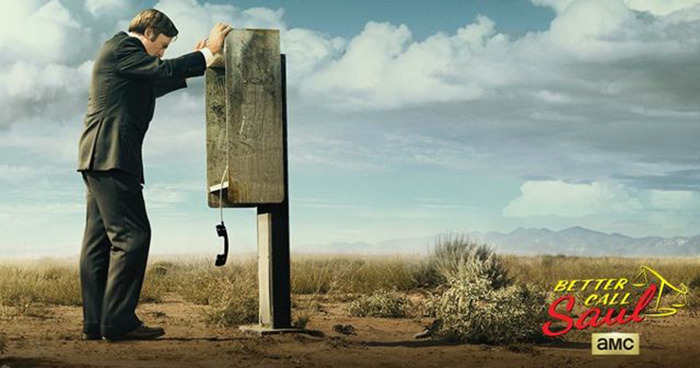 Better Call Saul surprised a lot of people in 2014. How could a spin-off prequel show featuring a side character from a TV show, even one as excellent as Breaking Bad, tell a viable story? Creators Vince Gilligan and Peter Gould, with Bob Odenkirk to play Jimmy McGill, showed everyone how to do it, and Better Call Saul became a hit with audiences and critics alike, scoring seven Primetime Emmy Awards nominations, including Outstanding Drama Series, Outstanding Lead Actor in a Drama Series, and Outstanding Writing for a Drama Series.
The producers are bringing the show to AMC's panels at the Television Critics Association summer press tour, and we'll likely have more news from that later today. For now we've got two Better Call Saul S2 first-look photos (one featuring creators Gilligan and Gould) taken from the set of the show as it films in Albuquerque, NM.
Better Call Saul season 2 will debut on AMC early in 2016. While the first season ran ten episodes, the second season order is thirteen episodes.
He wasn't always Saul Goodman, ace attorney for chemist-turned-meth dealer Walter White. Six years before he begins to represent Albuquerque's most notorious criminal, Goodman is Jimmy McGill, a small-time attorney hustling to make a name for himself. He's a forceful champion for his low-income clients, an underdog whose morals and ambitions often clash. Jimmy works with private eye Mike Ehrmantraut, a former Philadelphia cop and recent transplant to the Southwest. Mike has a specialized skill set — he's a "fixer" of sticky situations — that Jimmy soon learns to appreciate.