LOL: Chris Farley Replaces Tom Cruise In 'Mission: Impossible - Rogue Nation'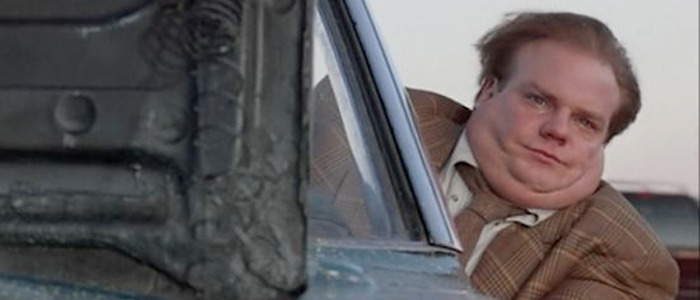 Unfortunately, in the winter of 1997, we lost comedy star Chris Farley. The Saturday Night Live veteran was overcome by fame and glory, letting drugs and alcohol rule a life that brought laughter and joy to millions. We'll never know just how much more comedy Farley could have brought to the masses in future film and television projects.
Thankfully though, Farley is still able to bring us a good laugh from the footage that we already have of the actor hamming it up in films like Tommy Boy and Black Sheep. And friend of the site Todd Spence decided to use Farley's signature comedies to lighten up this weekend's latest blockbuster, Mission: Impossible – Rogue Nation.
Chris Farley takes the role of Tom Cruise with footage of the actor intercut with the trailer for the action sequel to humorous effect. It's amusing throughout, but it's the payoff at the end that makes it all worth it. See Chris Farley in Mission Impossible after the jump!
Thanks to Todd Spence for editing this little gem together:
Chris Farley in Mission: Impossible sounds pretty ridiculous, but you can bet your ass I'd buy a ticket immediately if that casting was ever a possibility. There are plenty of other roles that I would have loved to see Farley tackle, including a role in Ghostbusters 3, Randy Quaid's character Ishmael in Kingpin, and the title role of The Cable Guy.
Also, did you know that Farley was originally cast as Shrek? He had actually recorded a majority of his dialogue before passing away, but was eventually replaced by Mike Myers in the end. You can still see a little of Farley's influence in the character's animation.
If you want to learn more about the life and legacy of Chris Farley, be sure to check out the trailer for the forthcoming documentary I Am Chris Farley, which will more than likely make you laugh and cry the whole time. Otherwise, you can see the real Mission: Impossible – Rogue Nation in theaters right now.