VOTD: Elders React To New 'Batman V. Superman: Dawn Of Justice' Trailer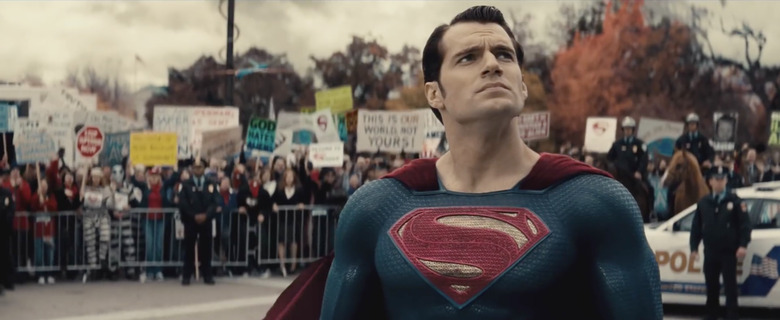 When the new trailer for Batman v. Superman: Dawn of Justice debuted in Hall H at Comic-Con in San Diego, you could feel the excitement from fans. But how does the trailer play to more general audiences? Or more specifically, how does it play to the elderly?
That's what Fine Brothers Entertainment, the folks behind those adorable Kids React videos (we recently featured some youngsters learning that Transformers existed before 2007), found out when they sat down some lovely old people to watch the most recent trailer for the DC Comics match-up for the first time. Their reactions might be more adorable than the kids.
Watch elders react to Batman v Superman after the jump!
One woman gets all giddy with excitement when she sees Superman arrive, another sweet old guy calls Supes one of his "favorite compadres," and adds, "This isn't right. Superheroes shouldn't fight. They should stick together." One sweet woman gets a little concerned asking, "Is this a bad Batman?" and even asks a second time in a row, her anxiety increasing as she doesn't get an answer. But then that same woman also asks "Is that Xena?" when Wonder Woman pops up.
And much like the kids reacting to videos, some of these elders don't seem to have a filter either. One of the old men says, "Here comes 9/11," when Ben Affleck as Bruce Wayne is running towards the crumbling buildings of Metropolis. The trailer certainly invokes that feeling, but it doesn't need to be pointed out so nonchalantly.
This just goes to show you how some of the most average, older moviegoers view the movies that we get so worked up about. Some of them just don't care, others just don't understand, but that one guy who could almost pass for a black Lex Luthor, he knows the good stuff when he sees it. Thanks to Fine Brothers Entertainment for putting this together.
Batman v. Superman: Dawn of Justice arrives on March 25th, 2016.