'Game Of Thrones' Could Go Eight Seasons, HBO Is Open To 'True Detective' Season Three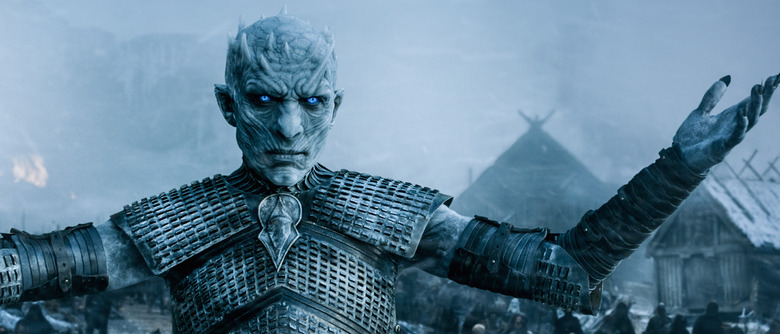 Michael Lombardo, president of programming for HBO, just gave an executive session to the Television Critics Association. Here are some of the questions he's answering about Game of Thrones, True Detective, and the upcoming Westworld. One question fans have wondered about is how many seasons of Game of Thrones we might see. When asked if the show was intending to wrap after seven seasons, Lombardo said it looks like Game of Thrones will probably go for eight seasons.
"Seven seasons and out has never been a conversation," Lombardo said of Game of Thrones. However, eight seasons might be likely. Showrunners David Benioff and D.B. Weiss are currently working on the sixth season. "I think they see two more seasons," Lombardo said.
Lombardo was even asked about the prospect of a Game of Thrones prequel, and he said he'd do it, in the interest of working with Weiss and Benioff on anything.
"Look, I would be open to anything that Dan and David wanted to do, on Game of Thrones or any subject matter," Lombardo said. "It's purely for us on what they want to do. I think there's enormous storytelling to be mined. At this point, all focus is on figuring out the next few years of the show so we haven't had a conversation beyond that point."
The HBO exec was also aware of criticism the second season of True Detective has received. For his part, he said he's not disappointed and he thinks the season finale sticks the landing.
"I became aware that some of you had written, tweeted some comments about True Detective that weren't enjoying it as much as you thought you might," Lombardo said. "I think Nic Pizzolatto is one of the best writers working in TV and motion pictures today. I think he takes a big swing. I think the show's end is as satisfying as any I've ever seen. I'm enormously proud of it."
With 12 million viewers an episode, HBO will take a third season sight-unseen. That's more a matter of whether Pizzolatto wants to write it. "I'd love to do another season of it," Lombardo said. "Our door's open. I think he's a spectacular writer."
HBO showed a long sizzle reel for Westworld that focused on scientific images and the control room, with some shocking violence in the park. Lombardo kept details on the J.J. Abrams/Jonah Nolan series vague, but confirmed it would focus on the park workers and robots, rather than tourists.
I don't want to give away too much. The film was very invested in one particular group of visitors to the park and their experience with the robots. This is not that. This is very much told from the point of view of the robots. The world is as dimensionalized as the park. I think the visitors to the park are really not the primary focus of it at all. Without giving more than that away, only one character that you saw in the clip is a visitor to the park. It resembles the film in name and in spirit but really is I think otherwise not a reference point.