American Ultra Trailer: Jesse Eisenberg Does His Best Jason Bourne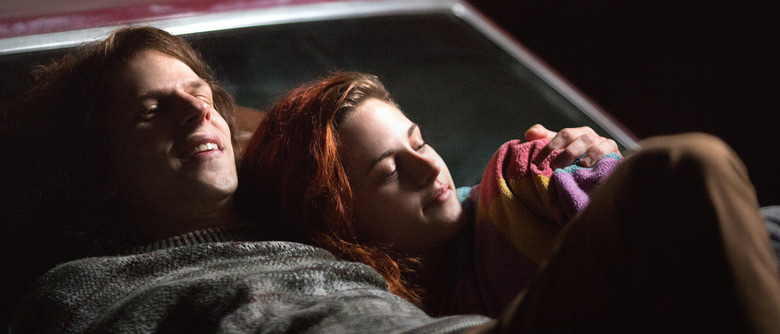 Jesse Eisenberg is just about the last guy you'd expect to emerge as a lethal agent. It's easier to buy him as a supervillain, even. But that's exactly the point of his latest movie, American Ultra.
Directed by Nima Nourizadeh and written by Max Landis, the action-comedy stars Eisenberg as an aimless stoner who's secretly a highly trained operative. So secretly, in fact, that even he has no idea. Kristen Stewart plays his girlfriend. Watch the latest American Ultra trailer after the jump.
Lionsgate posted the latest American Ultra trailer online.
It's amusing to see Eisenberg play with his nervous geek image, but it might be more amusing still if we could actually see him going all Jason Bourne. The trailer suggests his stunt double is the one doing all the work – and if that's not the case, Eisenberg should be annoyed they're making it look like it is. It'd also be nice to get more of Stewart, who demonstrated such great chemistry with Eisenberg in Adventureland.
All told, though, those are minor quibbles. Surely there'll be more action, excitement, and KStew in the full-length feature. For now, it's enough that the premise looks fun and fresh, that Eisenberg and Stewart and John Leguizamo seem to be having a lot of fun.
American Ultra lands in theaters August 21, 2015. Connie Britton, Topher Grace, Tony Hale, Bill Pullman, and Walton Goggins also star.
American Ultra is a fast-paced action comedy about Mike (Eisenberg), a seemingly hapless and unmotivated stoner whose small-town life with his live-in girlfriend, Phoebe (Stewart), is suddenly turned upside down. Unbeknownst to him, Mike is actually a highly trained, lethal sleeper agent. In the blink of an eye, as his secret past comes back to haunt him, Mike is thrust into the middle of a deadly government operation and is forced to summon his inner action-hero in order to survive.