Watch Batman Fight Batman In Latest 'LEGO Dimensions' Video Game Trailer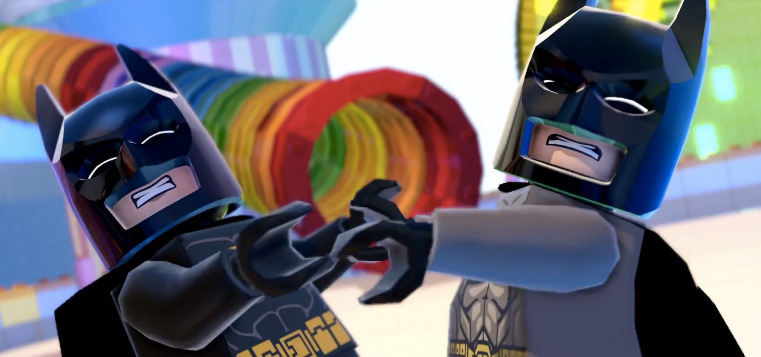 If you're a frequent reader of SlashFilm, you know that we love LEGO, and we love even more when the building block toy gets blended with our favorite films. Whether it's an official Ghostbusters Ecto-1 set or a custom Jurassic Park visitor center, we like seeing the building blocks come together to make things from the movies we love.
Therefore, our interest is piqued by the forthcoming video game LEGO Dimensions, a new collectible figure video game which combines the likes of Lord of the Rings, Back to the Future, Batman (and other DC Comics heroes), The LEGO Movie, Ninjago and even The Wizard of Oz.
And now a new trailer has arrived online, showing the story behind how all these different franchises came to be mixed up with each other. But the real highlight is seeing Batman fight another Batman. Watch the LEGO Dimensions trailer after the jump!
This looks like a lot of fun for kids and also adults who don't feel the need to get invested in an MMORPG or massive sandbox environment video game on Xbox One of Playstation 4. It's the kind of game that will let you just screw around for a little bit before getting back to work. And it's one of the only games that combines a variety of different film franchises that you love, just in LEGO form.
For the first time in any LEGO videogame, characters from iconic entertainment franchises join forces and battle in worlds outside of their own. In addition to the game, the LEGO Dimensions Starter Pack will include the LEGO Toy Pad, which allows players to transport special LEGO minifigures and other LEGO objects into the game, bricks to build the LEGO Gateway, three LEGO Minifigures, including LEGO Batman from DC Comics, LEGO Gandalf from The Lord of the Rings and Wyldstyle from The LEGO Movie, plus the LEGO Batmobile.
In addition to the three minifigure heroes used to start the experience, LEGO Dimensions will allow gamers to customize their experience with additional expansion packs.  Highly collectible Level Packs, Team Packs and Fun Packs will provide new buildable characters, vehicles, tools and gadgets, as well as compelling game content with new mission-based levels and unique in-game abilities.  All expansion packs will feature well-known properties and provide gamers the opportunity to use everything interchangeably, anywhere throughout the game – with no limitations.
LEGO Dimensions arrives on September 27th. Find out more right here.
Anyone out there interested in playing LEGO Dimensions?