Ivan Reitman Says The Only New 'Ghostbusters' Movie Is Paul Feig's Film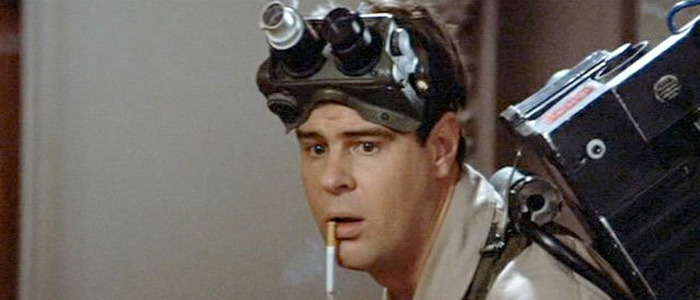 What's the deal with Ghostbusters? Paul Feig is shooting his new film now, but there has also been talk of another movie, possibly directed by Joe and Anthony Russo, with story input from Drew Pearce and Chris Pratt and Channing Tatum as possible stars. Reid Carolyn, who is Tatum's creative partner, has commented on the development, as has Pearce. Pratt even fanned rumors by posting goofy/cryptic goat pictures on Instagram.
Now Ivan Reitman, director of the first two Ghostbusters films and producer of the current one, is here to bust the rumors. He has released a statement in an attempt to clarify the situation. In short: there's only one new Ghostbusters, and Paul Feig is making it. Trouble is, that contradicts what Reitman himself said a few months ago.
Here's Reitman's emailed statement:
There has been a lot of excitement recently about what is happening with the Ghostbusters franchise. As the producer of the new Ghostbusters film, I feel the need to clarify. There is only one new Ghostbusters movie and that is the Paul Feig directed version coming next July, presently filming and going fantastically. The rest is just noise.
We know there were other ideas in play, mostly because Reitman himself talked about them. That wasn't even long ago — his comments were from March of this year! At that point Reitman said (bold emphasis ours):
We want to expand the Ghostbusters universe in ways that will include different films, TV shows, merchandise, all things that are part of modern filmed entertainment. This is a branded entertainment, a scary supernatural premise mixed with comedy. Paul Feig's film will be the first version of that, shooting in June to come out in July, 2016. He's got four of the funniest women in the world, and there will be other surprises to come. The second film has a wonderful idea that builds on that. Drew will start writing and the hope is to be ready for the Russo Brothers' next window next summer to shoot, with the movie coming out the following year. It's just the beginning of what I hope will be a lot of wonderful movies.
So talk of a second movie comes directly from Reitman. It's not a weird rumor, it's not a speculative thing that was blown out of proportion. The producer of the series announced it. Not as a tentative deal, but as a thing that would happen as soon as the Russos are free.
I get why there's a push to de-emphasize the second movie. There's a lot of argument over Paul Feig's film, which is somehow provocative for having the gall to star four women instead of four dudes, and talk of a second film undermines what Feig is doing. Granted, Feig's film is a year off — it opens on July 22, 2016 — so there's plenty of chance to let that film speak for itself via trailers and other marketing.
And maybe the dealmaking for this other Ghostbusters movie went south. Maybe Sony isn't sure how Feig's movie will perform and wants to cool the jets on announcing a sequel already. That's all fine, it's part of the process. And despite renewed talk based on some comments from Pearce — who acted quickly to chill that conversation — it seems like this version is at least on hold. But Reitman acting like this is "noise" that originated anywhere but with him is ridiculous.