Netflix's 'Beasts Of No Nation' Gets A Teaser Trailer And A Theatrical Release Date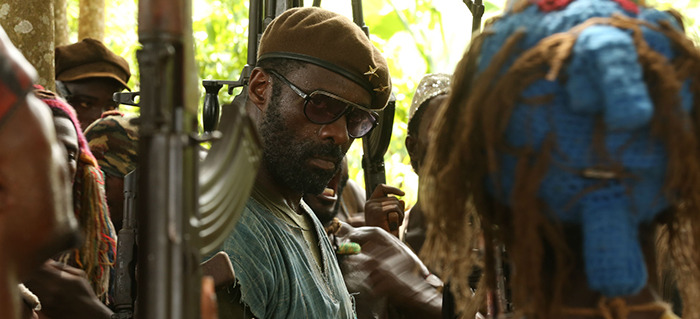 Cary Fukunaga's touch has been sorely missed on True Detective this season, but his fans can rest assured they'll be seeing more from him in the not-too-distant future. Netflix has just debuted the first promo for Beasts of No Nation, Fukunaga's intense new war drama.
Based on the novel by Uzodinma Iweala, Beasts of No Nation unfolds during a civil war in an unnamed West African country. A young boy named Agu (Abraham Attah) is torn from his family and forced to join a guerrilla fighter unit. Idris Elba plays the warlord who takes Agu under his wing, and molds him into a soldier. Watch the Beasts of No Nation teaser trailer — and get new theatrical release details — after the jump. 
First, here's the Beasts of No Nation trailer from YouTube.
Well, this isn't going to be an easy watch. The first trailer seems to show Agu at a crossroads. Elba's character urges him to kill, telling the boy that the man in front of him is responsible for the deaths of Agu's family. But Agu doesn't seem to have crossed the point of no return quite yet. Even in the face of all this pressure, he's hesitating.
Although Beasts of No Nation won't be the first feature ever to premiere on Netflix, it's the first in a new push by the company to compete with established theatrical distributors. Titles like The Ridiculous Six, Crouching Tiger, Hidden Dragon: The Green Legend, and Pee-wee's Big Holiday will follow in the next year.
THR reports Beasts of No Nation will make its theatrical debut in Landmark Theaters on October 16, the same day it hits Netflix. It'll hit 19 markets: New York, Los Angeles, Boston, Philadelphia, Baltimore, Washington DC, Atlanta, Indianapolis, Detroit, Chicago, Minneapolis, Milwaukee, St. Louis, Houston, Dallas, Denver, Seattle, San Francisco, and San Diego. The day-and-date rollout keeps Beasts of No Nation eligible for Oscar.