First 'Unauthorized Full House Story' Clip Revealed; 'Fuller House' Brings Back Nicky And Alex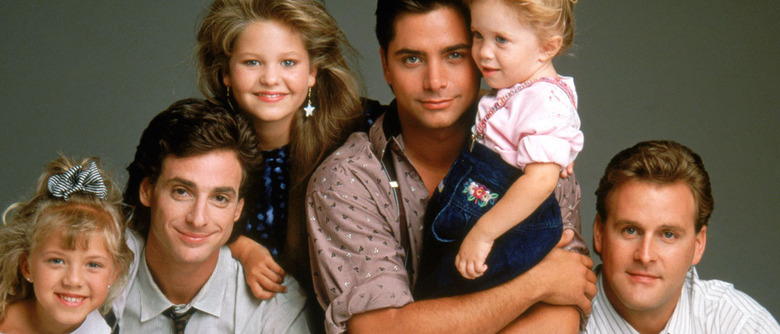 The Tanners rarely faced a problem they couldn't resolve in 22 minutes, but the first clip from Lifetime's The Unauthorized Full House Story reveals it wasn't all smooth sailing behind the scenes. For one thing, it seems John Stamos (played here by Justin Gaston) wasn't sold on the Olsen twins. And that Bob Saget (Garrett Brawith) was prone to making awkward R-rated jokes around his TV kids.
Meanwhile, the real Full House cast is welcoming some more new faces to Netflix's Fuller House spinoff. Uncle Jesse's twin sons Nicky and Alex (Blake and Dylan Tuomy-Wilhoit) are confirmed to return, while Eva LaRue joins the family in an entirely new role. Watch the first Unauthorized Full House Story clip and get details on the new Fuller House casting after the jump. 
Lifetime debuted the first The Unauthorized Full House Story clip on Yahoo.
And here you thought the original Full House was groanworthy. If Fake John Stamos' perfectly reasonable concerns about the casting choices and Fake Bob Saget's slightly off-color jokes are the best dirt the The Unauthorized Full House Story has to offer, it's gonna be kind of a dull watch.
Switching over to the completely authorized Full House spinoff, Fuller House just keeps getting fuller and fuller. Blake and Dylan Tuomy-Wilhoit, who played Nicky and Alex respectively, confirmed on Instagram that they'll reprise their roles for the new Netflix series.
Fun fact: While neither brother has been seen onscreen since the original Full House, you've probably continued to enjoy Dylan's work without even knowing it — he was a foley artist on Game of Thrones and Furious 7, according to IMDb. Blake is a firefighter. Also, they look like this now. Yes, you're old.
In addition, LaRue of All My Children and CSI: Miami has joined the cast as Danny's new wife Teri.
Playing Danny Tanner's new wife Teri #fullerhouse #fullhouse https://t.co/v1jVzrlo9U

— Eva LaRue (@ImEvaLaRue) July 27, 2015
You'll note that LaRue is not black. During casting, the character was described as a 40-year-old "attractive, vivacious" African-American woman who has "quite an appetite for Danny." It seems a safe bet that at some point, someone is going to tell these randy lovebirds to "cut it out."
And that's not the only detail that's changed in development. The initial premise of Fuller House was that D.J. was a newly widowed mother of two, with another child on the way. However, Candace Cameron Bure now reveals the start of the show won't be quite as downbeat. "She's actually not pregnant anymore. The baby's been born," she told THR.
As for that "widowed" part, fans can breathe easy knowing D.J.'s high school boyfriend Steve remains alive and well. "Rest assured, Steve is not dead," she said. Scott Weinger previously confirmed his return to the series, but many had wondered if he might just appear in flashbacks.
The Unauthorized Full House Story debuts August 22 on Lifetime. Fuller House hits Netflix sometime next year.