'Feast' Director Will Make Paul Pope Adaptation 'Battling Boy'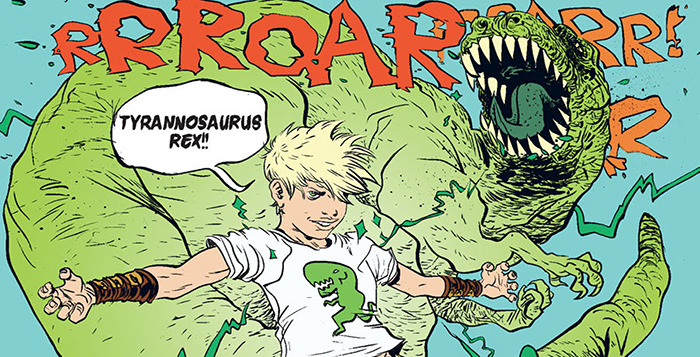 It makes sense that the first movie based on a comic by Paul Pope would be his entertaining and relatively accessible Battling Boy, rather than something more strange and complex like his Mars epic THB or the set of future-Manhattan stories from 100%. A boy hero, even a boy hero who is a demigod who fights with magic t-shirts, is the sort of character who makes for a slightly easier movie marketing pitch.
Still, Plan B and Paramount have been working on a Battling Boy movie for years, since long before the book was even published. But now a director has been hired, and it's a choice that will probably generate some great interest for the Battling Boy movie: the person in question is Patrick Osborne, who directed the short Feast for Disney.
Variety has the news. Even though Battling Boy is, in the end, more accessible than some of Pope's other work, it still sounds pretty odd right off the bat. Here's the description of the graphic novel:
Monsters roam through Arcopolis, swallowing children into the horrors of their shadowy underworld. Only one man is a match for them – the genius vigilante Haggard West. Unfortunately, Haggard West is dead.  Arcopolis is desperate, but when its salvation comes in the form of a twelve-year-old demigod, nobody is more surprised than Battling Boy himself. IT'S TIME TO MEET AN ELECTRIFYING NEW HERO.
As knotty as that sounds, what Battling Boy ends up being is a distillation of the familiar concept of the young hero's journey, as seen in concepts popularized by '80s cartoons, manga, and Marvel Comics. (And, to some extent, DC Comics, as Jack Kirby's DC character Kamandi, which was a big influence on this graphic novel.)
Osborne's short Feast, which played with Big Hero 6, won the Best Animated Short Film Oscar this year, and quickly won the hearts of audiences as well, thanks to its concept of viewing a human relationship through they eyes of a food-obsessed dog. He seems like a good choice for Battling Boy, and we'll follow the project as development hopefully picks up now.