Brett Ratner: 'Rush Hour' TV Show Doesn't Rule Out 'Rush Hour 4'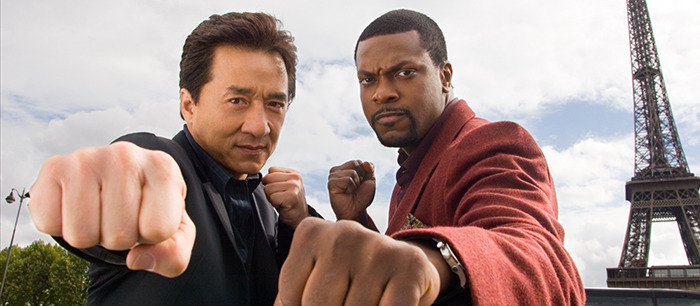 Today at the Television Critics Association summer press tour, Brett Ratner was on a panel for the National Geographic series Breakthrough. Ratner directed an episode of the series, focused on the human brain. After the panel, a few journalists approached Ratner for follow-ups and I asked him about the status of the Rush Hour franchise.
CBS is turning Rush Hour into a TV series; I've seen the pilot, which will debut as a mid-season 2016 entry. Detectives Lee and Carter, played by Jon Foo and Justin Hines, will have new adventures every week, but Ratner said the new series does not rule out a cinematic Rush Hour 4.
"No, not at all," Ratner said. "It has nothing to do with it. We're always talking about it. We've just got to find the time between Chris Tucker, myself and Jackie."
Ratner also confirmed he is still attached to direct Beverly Hills Cop 4. That sequel, which was reinvigorated by a cancelled CBS pilot, is still back in rewrites.
"Working on the script, working on the script," Ratner said. "It's a longer process. It's not easy. A lot of pressure on that one.
Eddie Murphy himself, whom Ratner directed in Tower Heist, said in a Rolling Stone interview that he won't do Beverly Hills Cop 4 "unless they have a really incredible script." Ratner confirmed Murphy is justifiably picky. "He is, and that's his franchise," Ratner said.
As a producer, Ratner is working on the Alejandro Gonzalez Inarritu film The Revenant with Leonardo DiCaprio. Asked about DiCaprio's Oscar prospects, Ratner said, "I think he's brilliant in the movie. Who knows who's going to win the Oscar, but I think it's one of the greatest performances for sure. The collaboration between Alejandro, the cinematographer, and Leo, it's magical. I've never seen a motion picture like this ever. It's really brilliant."
The NatGeo series Breakthrough premieres this fall. Ratner got involved with the episode "The Brain: The Final Frontier" because he had an experience with his grandmother being misdiagnosed with Alzheimer's. Another doctor prescribed a medication that brought back her mental faculties within days. During follow-ups he elaborated on his personal experience.
"It was scary but the doctors were saying to me, 'Your grandmother has Alzheimer's and this is normal that you're in denial.' But I know it's not Alzheimer's because she remembers more stuff than I do. Then we found the right doctor who had the right solution. It's the miracle of modern medicine. I just saw overnight her brain chemistry change, so I'm happy she's healthy and with us. I'm enjoying her every day."
As a director, Ratner has dabbled in many different formats, from shorts to the ESPN 30 for 30 documentary Mysteries of the Jules Rimet Trophy. He described the process of making "The Brain" as more free than scripted filmmaking.
"I think there's more opportunity for exploration [than in] a movie," Ratner said. "We did have a script on this but it's endless what you can do. You can recreate it over and over again in the edit. There's no real rules which is fun for me."