Tig Notaro Gets An Amazon Comedy Series With Louis C.K. And Diablo Cody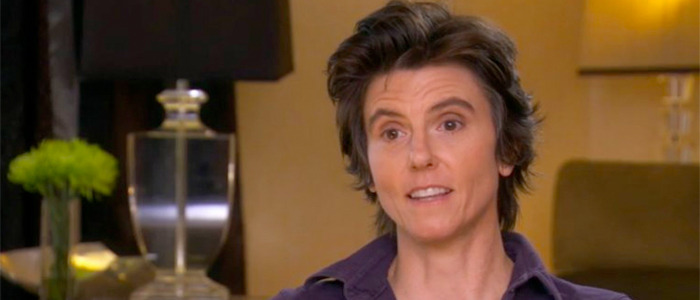 Right now Netflix is streaming the documentary Tig, focusing on the life story of comedienne Tig Notaro, a stand-up comic who skyrocketed to instant fame after a set about her being diagnosed with cancer went viral, despite the fact that there was no video available for anyone to watch.
Now Tig Notaro is getting her own semi-autobiographical series on Amazon, and it has some pretty exciting executive producers on board. Find out more about the Tig Notaro Amazon series below!
The Hollywood Reporter brings word on the untitled comedy series that will follow Tig Notaro playing a version of herself. Here's the official synopsis:
Tig Notaro has just recovered from an abdominal disease that has left her gaunt, wasted, exhausted and pretty much stripped of everything except her finely honed sense of the absurd. Abruptly summoned home to Pass Christian, Miss., to take her ailing mother off life support, Tig finds herself dealing with her clingy girlfriend, her dysfunctional Gulf Coast family and the loss of the one person who held everything together.
This is all based on Notaro's life as the comedian was diagnosed with clostridium difficile colitis, also known as C-DIFF, while working on the indie comedy In a World. Following that news, Notaro's mother passed away, and Notaro was then diagnosed with breast cancer.
It's certainly a lot of sad material, but Notaro did what she does best and turned it into a humorous, intimate look at life as only a drily funny comedian can. You can learn all about this in the aforementioned Netflix documentary Tig (available to stream now), which you can catch a glimpse of in the trailer here:
It'll be interesting to see how Notaro's story is dramatized and fictionalized somewhat for a comedy series, especially with Juno screenwriter Diablo Cody and fellow comedian Louis C.K. working on the show as executive producers. (We've also seen some talk about Louis C.K. directing some of the series, though we haven't been able to confirm that.)
The show was originally set up at FX, where C.K.'s Pig Newton banner is based, but Amazon ended up taking it off their hands and picking it up for a pilot.
This isn't the first time Louis C.K. and Tig Notaro have worked together, since the former allowed the latter to use his website to distribute her 2012 stand-up special Tig Notaro Live. (As in the present tense of being alive, not just ppearing in person as most comedy albums are titled.)
The challenge will be making what seems like familiar material, at least for fans of Notaro and those who have seen the documentary, feel fresh. After all, there's also an HBO comedy special in August and a Showtime documentary on the way with Notaro as the star, so hopefully overexposure won't be a problem. As someone who is a big fan of Notaro's comedy style, I'm looking forward to all of these projects.