'Shaft' Reboot Picks Up 'Black-Ish' And 'Goldbergs' Writers; Will Be Action Comedy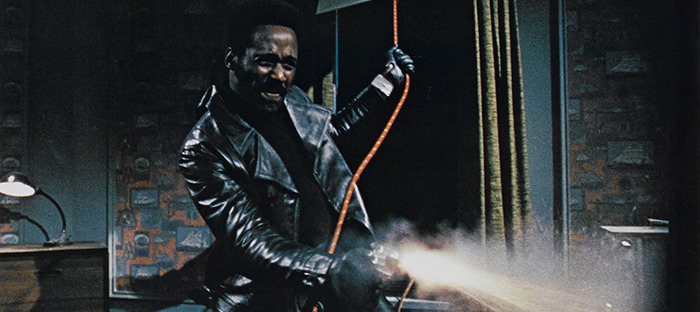 New Line's Shaft reboot is moving forward with help from, of all places, ABC's Wednesday night sitcom block. Black-ish creator Kenya Barris and The Goldbergs writer/exec producer Alex Barnow have been tapped to write the latest take on blaxploitation classic.
Whereas the original Shaft was a gritty thriller, the new film is envisioned as an action-comedy. Not surprisingly, not everyone is happy about this change in tone. One vocal opponent is current Shaft comic book writer David F. Walker, who has a message for New Line Cinema: "F*** you!" More about the Shaft reboot writers after the jump. 
Deadline reports the new Shaft will be produced by John Davis (The Man From U.N.C.L.E., Victor Frankenstein) and Ira Napoliello. Richard Brener and Samuel J. Brown will oversee the project for the studio. No director or stars have been set as of yet.
Released in 1971, the original Shaft followed badass P.I. John Shaft (Richard Roundtree) on a mission through Harlem to find the missing daughter of a black mob boss. It's considered one of the earliest and most prominent examples of the blaxploitation genre, and its soundtrack has become iconic. Shaft yielded two sequels in 1972 and 1973.
In 2000 Paramount made an attempt to revive the franchise with a new film directed by John Singleton and starring Samuel L. Jackson as the equally cool nephew of the original John Shaft. But the 21st century makeover failed to catch on, and no further sequels were released.
Besides Black-ish, Barris' credits include the upcoming Barbershop 3 and the Good Times movie. Barnow previously co-created Mr. Sunshine and has worked on Rules of Engagement, 'Til Death, and Family Guy. Barris and Barnow recently collaborated on an untitled comedy script picked up by New Line earlier this year.
From a business standpoint, a comedic Shaft reboot makes some sort of sense. Jokes are an easy way to update a beloved but outdated property for the modern era — just ask the thriving 21 Jump Street film series, for example. And to be fair, there's outcry every time anything gets rebooted, not just Shaft.
But Shaft's unique place in American pop culture makes a comedic version an especially tricky sell. What's more, the Shaft reboot is being developed in the midst of some horrendously difficult conversations about race, power, and privilege. Walker argues in an open letter, a comedic take would strip away what makes Shaft so essential:
... [Y]our solution is to take the most iconic hero in the history of black popular culture—something that is missing from the cinematic landscape right now—and turn him into some kind of comedic figure. Congratulations for your forward thinking, New Line and Mr. Davis. Because God knows that what black people—as well as the rest of America—needs right now is ANOTHER black man cracking jokes to distract us from all that ails us. We can leave the superheroics to the white guys, but the black hero can only be heroic if he is wrapped in a comedic package. I believe I speak for many people when I say, "No thanks, and f*** you."
That's not to say great social commentary can't come from comedy. And the choice of Barris to write suggests New Line isn't totally insensitive to Shaft's place in black culture. The first season of his show Black-ish was widely praised for its deft handling of racial issues in the modern day. At best, we can hope he'll bring the same intelligence to the Shaft reboot. But even then, it's hard to refute Walker's point about the lack of serious black heroes in mainstream pop culture.
Do you like the idea of a comedic Shaft, or are you as unhappy about it as Walker is?