'The 33' Trailer: The 2010 Chilean Mining Accident Gets Dramatized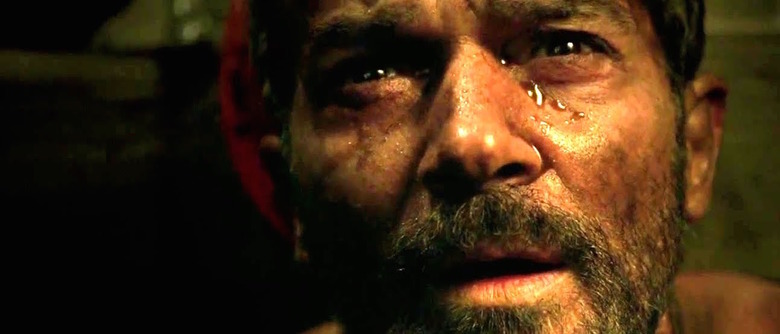 Next week marks the fifth anniversary of the San José mine cave-in, which left 33 miners trapped 2,300 feet below ground near Copiapó, Chile. Once it become apparent they'd survived the initial shock, the government scrambled to rescue them as the whole world watched. After spending a record 69 days underground, all 33 men were eventually brought to safety.
Now the whole world will get the chance to watch the drama unfold all over again, albeit in a more accelerated fashion and with more movie stars. Directed by Patricia Riggan, The 33 dramatizes those real-life events – both the men's struggle to survive underground and the efforts of their loved ones, government officials, and rescue workers aboveground. Watch The 33 trailer after the jump.
Warner Bros. unveiled The 33 trailer on YouTube. A Spanish-subtitled version can be found here. A rather different version of The 33 trailer for international audiences premiered earlier this year. The emphasis here is on hope and empathy and the resilience of the human spirit.
Antonio Banderas and Lou Diamond Phillips play miners Mario Sepúlveda and Luis Urzua; Rodrigo Santoro is Chilean Minister of Mining Laurence Golborne; Gabriel Byrne is engineer Andre Sougarret, who leads the rescue mission; and Juliette Binoche is María Segovia, sister to one of the trapped miners. James Brolin, Mario Casas, Adriana Barazza, Kate del Castillo, Cote de Pablo, and Bob Gunton also star.The 33 arrives in theaters November 13, 2015.
In 2010, the eyes of the world turned to Chile, where 33 miners had been buried alive by the catastrophic explosion and collapse of a 100-year-old gold and copper mine. Over the next 69 days, an international team worked night and day in a desperate attempt to rescue the trapped men as their families and friends, as well as millions of people globally, waited and watched anxiously for any sign of hope. But 200 stories beneath the surface, in the suffocating heat and with tensions rising, provisions—and time—were quickly running out.