Venice Film Festival 2015 Lineup Includes 'Black Mass', New Films By Charlie Kaufman And Cary Fukunaga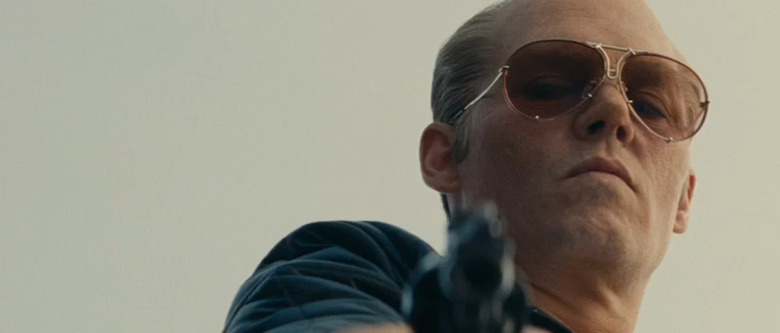 Just one day after TIFF unveiled its 2015 lineup, the Venice Film Festival has done the same. This year's slate includes the world premieres of Johnny Depp's Whitey Bulger biopic Black Mass, Tom Hooper's awards hopeful The Danish Girl, Thomas McCarthy's sex abuse drama Spotlight, Baltasar Kormákur's survival thriller Everest, and Cary Fukunaga's Netflix project Beasts of No Nation.
Also represented are directors Noah Baumbach (the documentary De Palma), Martin Scorsese (the short film The Audition), Amy Berg (the documentary Janis), Charlie Kaufman (Anomalisa), and actors Kristen Stewart (Equals), Robert Pattinson (Childhood of a Leader), Tilda Swinton (A Bigger Splash), and Gary Oldman (Man Down).
See the Venice Film Festival 2015 lineup announced so far after the jump.
Competition
Frenzy, dir: Emin Alper (Turkey, France, Qatar)Heart of a Dog, dir: Laurie Anderson (U.S)Sangue Del Mio Sangue, dir: Marco Bellocchio (Italy, France, SwitzerlandLooking for Grace, dir: Sue Brooks (Australia)Equals, dir: Drake Doremus (U.S)Remember, dir: Atom Egoyan (Canada, Germany)Beasts of No Nation, dir: Cary Fukunaga (U.S)Per Amor Vostro, dir: Giuseppe M. Gaudino (Italy, France)Marguerite, dir: Xavier Giannoli (France, Czech Republic, Belgium)Rabin, The Last Day, dir: Amos Gitai (Israel, France)A Bigger Splash, dir: Luca Guadagnino (Italy, France)The Endless River, dir: Oliver Hermanus (South Africa, France)The Danish Girl, dir: Tom Hooper (U.S)Anomalisa, dirs: Charlie Kaufman, Duke Johnson (U.S)L'Attesa, dir: Piero Messina (Italy, France)11 Minutes, dir: Jerzy Skolimowski (Poland, Ireland)Francofonia, dir: Aleksandr Sokurov (France, Germany, Netherlands)El Clan, dir: Pablo Trapero (Argentina, Spain)Desde Alla, dir: Lorenzo Vigas (Venezuela, Mexico)L'Hermine, dir: Christian Vincent (France)Behemoth, dir: Liang Zhao (China, France)
Out of Competition
Everest, dir: Baltasar Kormakur (opening film) (UK, U.S.)Mr Six, dir: Guan Hu (closing film) (China)Go With Me, dir: Daniel Alfredson (U.S., Canada, Sweden)Non Essere Cattivo, dir: Claudio Caligari (Italy)Black Mass, dir: Scott Cooper (U.S)Spotlight, dir: Thomas McCarthy (U.S.)La Calle De La Amargura, dir: Arturo Ripstein (Mexico, Spain)The Audition, dir: Martin Scorsese (U.S.)Winter on Fire, dir: Evgeny Afineevsky (documentary) (Ukraine)De Palma, dirs: Noah Baumbach, Jake Paltrow (documentary) (U.S)Janis, dir: Amy Berg (documentary) (U.S)Sobytie (The Event), dir: Sergei Loznitsa (documentary) (Netherlands, Belgium)Gli Uomini Di Questa Citta Io Non Li Consoco, dir: Franceo Maresco (documentary) (Italy)L'Esercito Piu Piccolo Del Mondo, dir: Gianfranco Pannone (documentary) (Vatican City State, Italy, Switzerland)Na Ri Xiawu (Afternoon), dir: Tsai Ming-liang (China, Taiwan)In Jackson Heights, dir: Frederick Wiseman (documentary) (U.S)
Special Screening
Human, dir: Yann Arthus-Bertrand (documentary) (France)
Golden Lion for Career Achievement
Bertrand Tavernier, screening La Vie Et Rien D'Autre (France)
Horizons (Orrizonti)
Madame Courage, dir: Merzak Allouache (Algeria, France, UAE)A Copy of My Mind, dir: Joko Anwar (Indonesia, South Korea)Pecore in Eerba, dir: Alberto Caviglia (Italy)Tempête, dir: Samuel Collardey (France)The Childhood of a Leader, dir: Brady Corbet (UK, Hungary, Belgium, France)Italian Gangster, dir: Renato De Maria (Italy)Chaharshanbeh, 19 Ordibehesht (Wednesday, May 9), dir: Vahid Jalivand (Iran)Mountain, dir: Yaelle Kayam (Israel)Krigen (A War), dir: Tobias Lindholm (Denmark)Visaarani (Interrogation), dir: Vetri Maaran (India)Free In Deed, dir: Jake Mahaffy (U.S., New Zealand)Boi Neon, dir: Gabriel Mascaro (Brazil, Uruguay, Netherlands)Man Down, dir: Dito Montiel (U.S.)Lama Azavtani (Why Hast Thou Forsaken Me), dir: Hadar Morag (Israel, France)Un Monstruo De Mil Cabezas, dir: Rodrigo Pla (Mexico)Mate-Me Por Favor, dir: Anita Rocha Da Silveira (Brazil, Argentina)Taj Mahal, dir: Nicolas Saada (France, Belgi)Interruption, dir: Yorgos Zois (Greece, France, Croatia)