New 'Batman V Superman' Photos Include Great Behind The Scenes Shots [Updated With High-Res]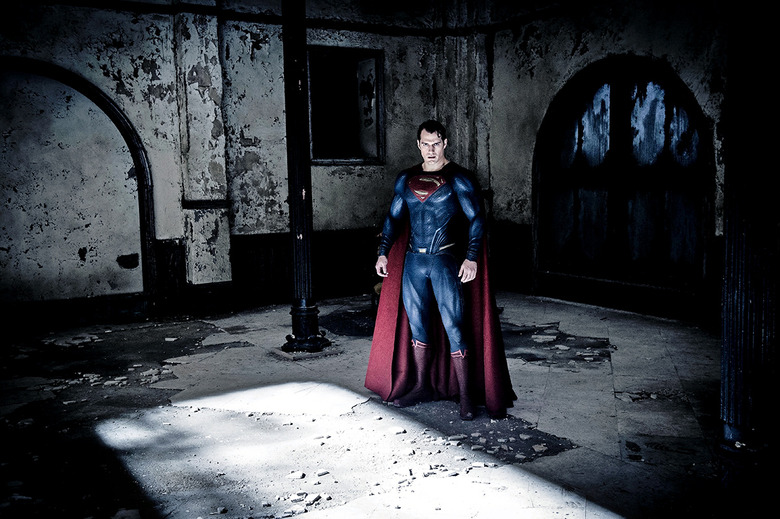 Now that Comic Con has come and gone, and nearly every big superhero movie for the 2015 season has been released, Warner Bros. is getting a bit more free with images and stories from Batman v Superman: Dawn of Justice. The March 2016 release was previewed in a big trailer, and we just saw one set of new photos online yesterday.
Now we've got a new batch of Batman v Superman photos, featuring a bunch of the major cast members. The best images, however, are a pair of behind the scenes shots that feature Ben Affleck in the Batsuit.
Update: We've now got high-resolution versions of this batch of images.Empire has these shots.
Along with these images are some new comments from director Zack Snyder, who explains that the mid-40s Bruce Wayne has been Batman for about 20 years, also explaining the conflict between the two title characters, at least in abstract terms.
We want to assume that Batman has reached this point in his life and career as a superhero, and Superman represents a sort of philosophical change. He is a paradigm shift for Batman: 'I've been fighting criminals all my life, trying to find justice, and now I am confronted with a concept that is transcendent to me.' In the face of Superman, a man robbing a bank doesn't matter.
And Ben Affleck has a few things to say that help contextualize some of what we've seen in trailers so far:
Zack [Snyder] pitched me his concept for this older, more broken, kind of f**ked up Batman. It was something we haven't seen. We have seen that Batman is willing to cross the line to protect people. That vigilantism has been a part of his character all along, and we are tapping into that mentality when faced by something as potentially deadly as Superman.
Batman v Superman: Dawn of Justice is set to open worldwide on March 25, 2016.
Fearing the actions of a god-like Super Hero left unchecked, Gotham City's own formidable, forceful vigilante takes on Metropolis's most revered, modern-day savior, while the world wrestles with what sort of hero it really needs. And with Batman and Superman at war with one another, a new threat quickly arises, putting mankind in greater danger than it's ever known before.
Batman v Superman: Dawn of Justice stars Henry Cavill in the role of Clark Kent/Superman, and Ben Affleck as Bruce Wayne/Batman. The film also stars Gal Gadot as Diana Prince/Wonder Woman, with Amy Adams, Laurence Fishburne and Diane Lane returning from Man of Steel, Jesse Eisenberg as Lex Luthor, Jeremy Irons as Alfred, and Holly Hunter in a role newly created for the film. Jason Momoa will also be making an appearance as Aquaman.
Directed by Zack Snyder, written by Chris Terrio, from a screenplay by David S. Goyer, the film is produced by Charles Roven and Deborah Snyder with Benjamin Melniker, Michael E. Uslan, Wesley Coller, David S. Goyer and Geoff Johns serving as executive producers.