Sequel Bits: 'Top Gun 2', 'Pacific Rim 2', 'Jack Reacher 2', 'Star Trek Beyond,' 'Mission: Impossible'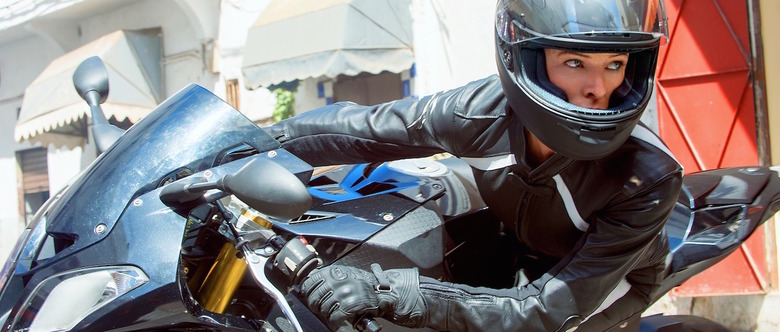 We've got more sequel bits than you can shake a stick at. After the jump:
Syfy's Lavalantula sequel gets a brilliantly bad title
Kung Pow 2 is happening, says director Steve Oedekerk
The Transporter Refueled drives into IMAX theaters this fall
Ride Along 2 gets a PG-13 rating from the MPAA
Neighbors 2 and Sinister 2 get release date changes
Simon Pegg has an issue with the Mission: Impossible marketing
Tom Cruise is adamant Top Gun 2 won't be filled with CG jets
Chris McQuarrie explains why he's not doing Jack Reacher 2
Josh Gad gives a (jokey) tease about the Frozen 2 plot
Charlie Hunnam hopes Pacific Rim 2 is more character-driven
Idris Elba will be "interesting" and "complex" in Star Trek 3
Hotel Transylvania 2 unveils a new travel promo
***
Syfy's Lavalantula reunited much of the Police Academy cast, including Steve Guttenberg, Leslie Easterbrook, Marion Ramsay, and Michael Winslow. Now it's hoping to do the same with the just-greenlit sequel, titled — wait for it — 2 Lava 2 Lantula. As of now, the plan is to premiere 2 Lava 2 Lantula in summer 2016. [Deadline]
***
13 years later, Kung Pow: Enter the First is finally getting a sequel. Steve Oedekerk, who wrote, directed, and starred in the original, confirmed the news at Dragonfest earlier this month. The first film was a critically panned flop, but it's since gained a cult following. [JoBlo]
***
The new Transporter will be larger than life. The Transporter Refueled is being digitally remastered for an IMAX release on September 4 in the U.S. and select international markets. Ed Skrein (Game of Thrones) replaces Jason Statham as badass driver Frank Martin. [PRNewswire]
***
The MPAA has given Ride Along 2 a PG-13 rating for "sequences of violence, sexual content, language and some drug material." That doesn't sound too far off from the original, which earned the same rating for "sequences of violence, sexual content and brief strong language." Starring Kevin Hart and Ice Cube, Ride Along 2 opens January 15, 2016. [Rope of Silicon]
***
The new Neighbors will move in a bit later than expected. Universal has pushed Neighbors 2 from May 13, 2016 to May 20, 2016, pitting it against The Angry Birds Movie and Shane Black's The Nice Guys. Chloë Grace Moretz recently joined the Nicholas Stoller-directed sequel. [Deadline]
***
Bughuul is taking his sweet time getting to cinemas. Sinister 2 is now set to open August 28, one week later the originally planned August 21 date. It'll be up against Alejandro Amenabar's Regression, which stars Sinister 1 lead Ethan Hawke. [Box Office Mojo]
***
Simon Pegg has a minor problem with the Mission: Impossible – Rogue Nation marketing campaign. Specifically, the way Rebecca Ferguson's character poster emphasizes her physical assets:
When the posters came out, it was me in a jacket, Tom in a jacket. Jeremy in a jacket, Ving (Rhames) in a jacket and Rebecca in leather with her (butt) sticking out. It was like, 'No, don't do that.' We're doing something good here. Trying to, at least.
While it's true she's unnecessarily sexualized in the poster, Ferguson may yet get the last laugh. Rogue Nation is a breakout turn for the Swedish actress. Mission: Impossible – Rogue Nation is in theaters this weekend. [USA Today]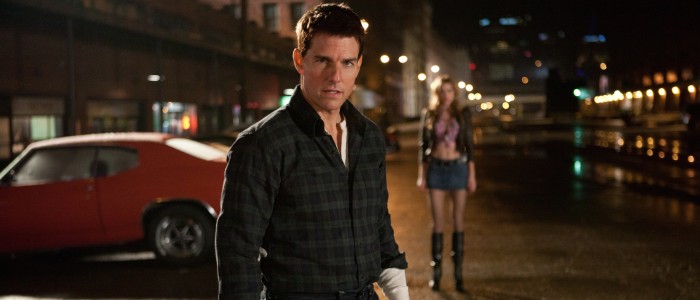 Tom Cruise is eager to make Top Gun 2, but only under one condition. The daredevil actor explained:
If I can figure it out, if all of us can figure it out, it'd be fun to do, I'd like to fly those jets again, but we got to do all the jets practical, no CGI on the jets... I'm saying right now no CGI on the jets. If we can figure all that out, and the Department of Defense will allow us to do it, that would be fun.
Skydance CEO David Ellison has previously said "there is no Top Gun 2 without Maverick," so practical jets it is, I guess. [Extra]
***
Jack Reacher 2 is moving ahead without Chris McQuarrie, and now the director has explained it's all Mission: Impossible – Rogue Nation's fault.
They needed to start [Jack Reacher 2], and I was [still] shooting this movie, so there was just no time to do it. And they have a really good team working on this new one. I'm very excited about it.
As previously reported, Ed Zwick (The Last Samurai) replaces McQuarrie in the director's chair for Jack Reacher 2. [CinemaBlend]
***
Josh Gad isn't allowed to say much about Frozen 2, so he's taken to just making stuff up. "Two words: White Walkers," he joked when pressed for details. "I can tell you that there's an opening sequence with Melisandre." He further promised that the film would answer questions about Jon Snow's fate, and that "children are gonna be terrified." [ScreenCrush]
***
Charlie Hunnam has confessed to being a little disappointed with Pacific Rim, but he's sounding more hopeful about Pacific Rim 2:
I do feel like ultimately [Pacific Rim] got weighed heavier on the side of spectacle than storytelling. [...] I hope that we are able to remedy that a little bit going into the second. Not to say I wasn't proud of the film. I really liked it, and I felt like it delivered exactly what it was supposed to. But I do feel like we could have maybe plumbed the depths of the character and the storytelling a little bit more.
Pacific Rim 2 is scheduled for August 4, 2017. [EW]
***
Star Trek Beyond star and co-writer Simon Pegg is excited for the world to meet Idris Elba's new villain. "It's a really interesting, complex character," he said. And don't expect him to be anything like the last Star Trek baddie, Benedict Cumberbatch's Khan. "What we don't want to do is have the same kind of villain with the same motivation," said Pegg. Star Trek Beyond opens July 8, 2016. [MTV]
***
The latest promo for Hotel Transylvania 2 plays like an ad for Hotel Transylvania, as in the hotel run by Count Dracula (Adam Sandler) and his family.
You know, aside from the whole "overrun by monsters" thing, that does actually sound like a pretty sweet vacation. Hotel Transylvania 2 opens September 25. [Flickering Myth]