'The Night Before' Red-Band Trailer: Seth Rogen And Friends Nearly Destroy Christmas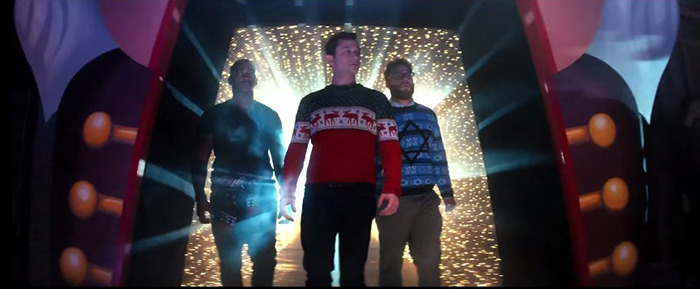 Seth Rogen and Evan Goldberg didn't quite get a chance to destroy Christmas last year thanks to the messy release of their film The Interview. Not that they're still thinking about it or anything; it's just one of the first cards that comes up in The Night Before red-band trailer.
This new Christmas comedy comes from director Jonathan Levine (50/50, The Wackness) and features Seth Rogen, Anthony Mackie, and Joseph Gordon-Levitt as three friends who are spending their last Christmas together before life takes them all on their own separate paths. Their party night turns crazy thanks to the intersection of drugs and (we're just guessing based on this trailer) their own anxieties about impending life changes. It's a very funny trailer, with a church scene featuring Rogen and Jillian Bell scoring the biggest comic hit. Watch below. 
There's a lot of good stuff here, from the chemistry between the leads, to the little Home Alone style gag shot of Seth Rogen, to the Big-influenced opening with the three friends ripping up 'Runaway' by Kanye West, which seems like it could pretty much be the inspiration for this whole movie. ("You've been putting up with my shit just way too long... Let's have a toast for the douchebags, let's have a toast for the a**holes.") Even the use of 'Wrecking Ball,' which comes in as both a joke and an earnest accompaniment to the drug-fueled comedy, is spot-on.
The Night Before opens on November 25. Trailer via Sony.
From Jonathan Levine, the acclaimed director of 50/50, comes the new comedy The Night Before. Ethan (Joseph Gordon-Levitt), Isaac (Seth Rogen) and Chris (Anthony Mackie) have been friends since childhood, and for a decade, their yearly Christmas Eve reunion has been an annual night of debauchery and hilarity. Now that they're entering adulthood, the tradition is coming to an end, and to make it as memorable as possible, they set out to find the Nutcracka Ball – the Holy Grail of Christmas parties.