Shudder Aims To Curate A Streaming Movie Catalog Tailor Made For Horror Fans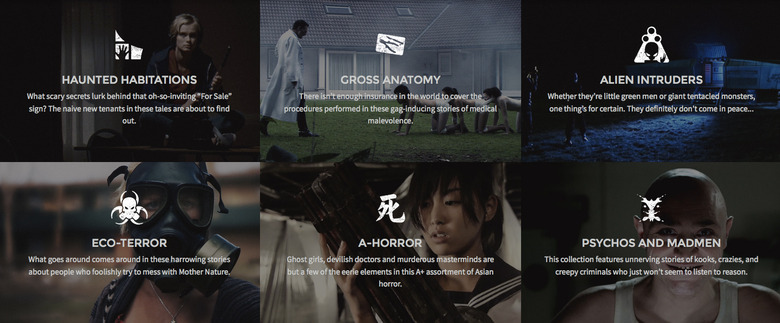 It's already clear that the most popular streaming services like Netflix, Hulu, Amazon Instant Video, HBO Go and more are here to stay. But it looks like the world of streaming might be evolving to appeal to more hardcore cinephiles.
There's a new subscription-based streaming video service called Shudder, bringing a slew of different horror films to the masses. Sure, services like Netflix already have a selection of movies for horror fans, but Shudder works a little differently, and it just might be what the more seasoned movie fan is looking for.
Find out more about the Shudder horror subscription after the jump!
First, we'll let Shudder introduce themselves (via HitFix):
Shudder is a diabolical new premium streaming video service, serving horror fans with curated worldwide programming ranging from hard-to-find independent fare to cult grindhouse classics to Hollywood blockbusters. Shudder has something for everyone, from the casual fan to the hardcore horror devotee. Backed by AMC Networks, Shudder's growing library of curated horror is available ad-free and for unlimited viewing on Shudder's website, mobile apps for iOS and Android, and the Roku platform with a free 14-day trial or $4.99 monthly/ $49.99 yearly membership.
So what's so special about that? Well, it's the "curated" part of the programming that Shudder will provide that makes this a little more appealing to those with more seasoned horror tastes. While sites like Netflix have a library full of whatever they can get their hands on to please the most amount of people, Shudder promises to be more thoughtful about their horror catalog and how they present it to fans, and it's the man behind the curating that should get fans excited.
Colin Geddes, who puts together the fun Midnight Madness section for the Toronto International Film Festival, will be lead curator for Shudder, handpicking movies for their library. If that doesn't mean much to you, some of the titles Geddes has programmed for the festival include The Raid, Kill List, You're Next, Insidious, A Town Called Panic, The Host, Saw, Ichi the Killer and more.
Shudder will fit movies into even more unique categories than you're used to seeing on Netflix, including Spectral Enctouners, Eco Terror or Zombie Jamboree, all for the pickiest of horror fans to sift through.
It's a pretty salty pricetag, but considering that having access to this library will almost be liking have a horror film festival at your fingertips, likely full of films that may not be available on other streaming services, it could be worth it, especially if you're a hardcore horror fan. This kind of model could end up getting more popular with specific genres having libraries handpicked for the most dedicated of fans, from classics to comedies and almost anything you can think of.
If you want to try out Shudder, or just learn more about it, check out Shudder.com right now.