Watch Arnold Schwarzenegger Reenact 'Terminator 2' Bar Scene With WWE Wrestlers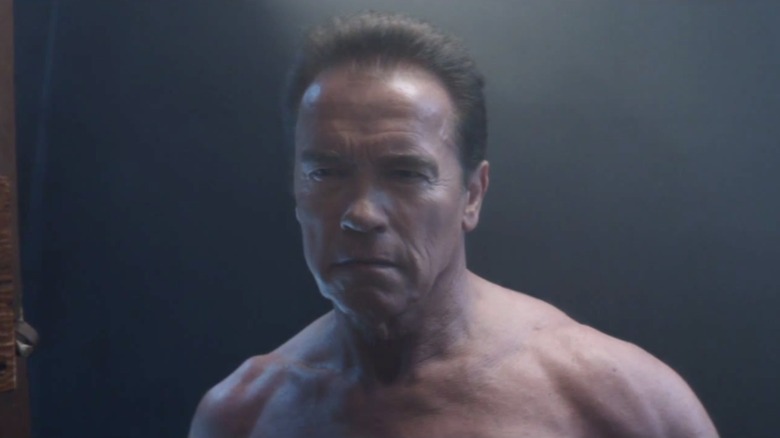 Okay so Arnold Schwarzenegger has been revisiting a lot of his old Terminator scenes lately, not just in Terminator Genisys which resets and revisits some moments from the first film in different ways, but also in a new commercial for the WWE 2k16 video game. But you're probably thinking to yourself — "that doesn't make any sense, why would Arnold Schwarzenegger be promoting a pro wrestling video game?"
Well as it turns out, Arnold Schwarzenegger will be reprising his role as the T-800 model Terminator in WWE 2K16. Thats right, Arnold is a playable character in the video game if you preorder (but, of course, WWF/WWE legend Hulk Hogan will not be in the game). So hit the jump and watch the Arnold Schwarzenegger WWE reenactment of the iconic bar sequence from Terminator 2: Judgement Day with some current WWE wrestlers.
Arnold Schwarzenegger WWE Terminator 2 Commercial
And for comparison, here is the original bar sequence starring Arnold Schwarzenegger from James Cameron's 1991 film Terminator 2: Judgement Day:
Hey, at least its not another hittable marketing cross promotion like Triple-H's crying-worthy Terminator Genisys entrance at WrestleMania 31 (although maybe that promotion was part of the deal to get Schwarzenegger's likeness in the new game):
And here is the official press release with more information on Arnold and the game:
"I'm Back" – 2K Announces Arnold Schwarzenegger as the Terminator in WWE® 2K16 Pre-Order Exclusive
Blockbuster action film star, 38th Governor of California, former professional bodybuilder and WWE Hall of Famer featured as two playable characters in flagship WWE video game franchise
NEW YORK, Jul 27, 2015 (BUSINESS WIRE) — 2K today announced the debut of 2015 WWE Hall of Fame inductee and global action film icon Arnold Schwarzenegger in WWE® 2K16, the forthcoming release in the flagship WWE franchise. Best known for his acting, bodybuilding and political endeavors, Schwarzenegger, a longtime WWE fan and WWE Hall of Famer, will expand his relationship with WWE through WWE 2K16 with two playable characters – T-800 from The Terminator and Terminator 2: Judgment Day films. The playable characters will be available for those who pre-order the game at participating retailers for thePlayStation®4 and PlayStation®3 computer entertainment systems, as well as Xbox One and Xbox 360. WWE 2K16 is scheduled for release on October 27, 2015 in North America and October 30, 2015 internationally.
"I've achieved many things in my life, but I've always said success means staying hungry and pushing the limits," said Schwarzenegger. "I was honored to join the WWE Hall of Fame earlier this year, and now I'll continue my WWE legacy with one of my biggest film roles immortalized in WWE 2K16. Match the Terminator against Stone Cold Steve Austin®, Seth Rollins® or Daniel Bryan®, and there's only one possible outcome: Hasta la vista, baby!"
From early childhood in his native Austria to today, Schwarzenegger represents the ultimate renaissance man, taking risks and defying odds through career accomplishments in bodybuilding, acting, politics and more. He won his first of four Mr. Universe titles at the age of 20, earned seven Mr. Olympia titles and since 1989 has hosted worldwide fitness expositions through the Arnold Sports Festival. Schwarzenegger is a fixture in numerous blockbuster action films, including Conan the Barbarian,The Terminator, Predator, Total Recall, Terminator 2: Judgment Day, TheExpendables franchise and his most recent release, Terminator Genisys, as well as for his roles in pop-culture favorites Kindergarten Cop and Twins. In addition, Schwarzenegger transcended from Hollywood to the state capitol, serving two consecutive terms as the 38th Governor of California from 2003 to 2010.
"Arnold Schwarzenegger is a living legend with universal appeal, a perseverance for greatness and a strong relationship with WWE, including his recent Hall of Fame induction, all of which make him an incredible fit for WWE 2K16," said Chris Snyder, Vice President of Marketing at 2K. "He's a force to be reckoned with and defines what it means to raise some hell. Through his WWE 2K16 pre-order inclusion, fans simply can't beat the opportunity to play as the Terminator in a WWE ring."
To see the WWE 2K16pre-order promotional campaign featuring Arnold Schwarzenegger, please visit https://www.youtube.com/watch?v=AZTSahJxT0Q.
Developed collaboratively by Yuke's and Visual Concepts, a 2K studio, WWE 2K16 is not yet rated by the ESRB. WWE 2K16 is currently scheduled for release on PS4™, PS3™, Xbox One and Xbox 360 on October 27, 2015 in North America and October 30, 2015 internationally.