Trivia: Jake Gyllenhaal's Parents Wouldn't Let Him Star In 'The Mighty Ducks'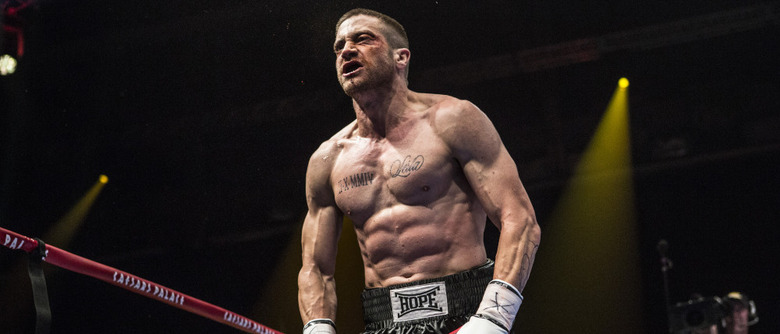 These days, Jake Gyllenhaal can get just about any role he wants, whether it's a broken bruiser in Southpaw or a ruthless reporter in Nightcrawler. But back when he was first starting out as a child actor, he had two big obstacles standing between him and one particular dream job.
Gyllenhaal revealed that he cried when his parents, director Stephen Gyllenhaal and screenwriter Naomi Foner, forced him to turn down a role in 1992's The Mighty Ducks. Hit the jump for the Jake Gyllenhaal Mighty Ducks quote.
The actor 'fessed up during an appearance on SiriusXM's The Howard Stern Show. "I definitely remember crying on the kitchen counter," he recalled. "Being like, 'What? You guys are crazy.'" According to Yahoo, Gyllenhaal had been gunning for the part that eventually went to Joshua Jackson.
At the time Gyllenhaal was already a working actor, having made his professional acting debut in 1991's City Slickers. But, he acknowledged, his mom and dad had good reasons for making him turn down the Mighty Ducks gig.
My parents were like, 'Look, you're about to enter junior high school, you gotta get your education, that's the most important thing. I promise you, you hate us now, but you'll thank us later. And I do. I thanked them later because of all the things I learned, and even just being a normal kid at school.
In fact, he said, he hopes his young Southpaw co-star Oona Laurence will have the same advantages he did:
I see her, and I go, 'I want her to have a normal life.' I want her to have her family and her friends and be in that space, because I think that will grow her up for real. I think all that movie stuff is meant more for adults, and I think it can mess you up.
While the fact that he never got to yell "quack! quack! quack!" on camera no doubt haunts him to this day, Gyllenhaal's career has since recovered from that early setback. He broke through as a young adult with films like October Sky and Donnie Darko, and even went on to earn an Oscar nomination for 2005's Brokeback Mountain.