John Stamos And 'Fuller House' Cast Tease First Live Audience Taping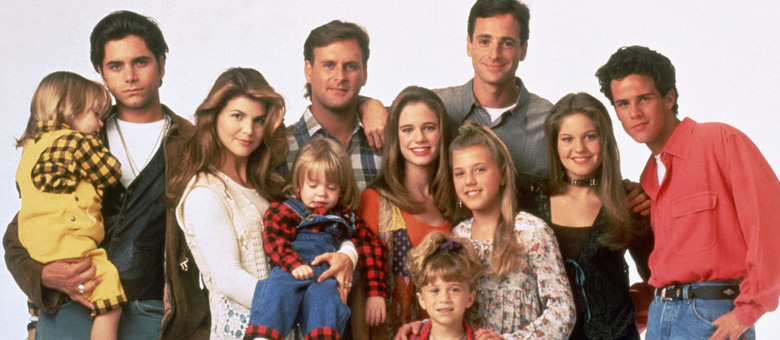 Fans are getting closer and closer to feeling right at home with the Tanner family again as the Netflix sequel series Fuller House, a continuance of the cheesy 1990s sitcom Full House, officially heads into production.
Over the weekend, some of the cast members teased the first live audience taping of the show, and if one thing's for certain, it's that John Stamos has aged a day since the original series ended 20 years ago. Check out the Fuller House cast photos after the jump!
John Stamos was the first to tease the taping of the first episode yesterday:
We're not sure if he's in full wardrobe in this shot or not, but as he says, the sideburns are back and they are real, so that's at least part of his look for the show. Otherwise, we wouldn't be surprised if what Stamos is wearing belonged to Uncle Jesse, because he looks pretty slick.
It's also nice to see Stamos in good spirits since he just completed some time in rehab following a DUI incident. Stamos said in a previous photo, "I'm back! Took a month to take care of things. Healthy. Feeling grateful for the love & support of family & friends."
Then there's Candace Cameron Bure as D.J. Tanner, one of my childhood crushes:
The Dancing with the Stars contestant should be used to this kind of thing by now, but surely returning to the show that gave her a career is making her a bit nervous. Maybe it's because her old on-screen love interest Steve, played by Scott Weinger, has been confirmed to be part of at least one episode of the series:
This is not a drill, people. This is happening! pic.twitter.com/c2JQ58v1QM

— Scott Weinger (@ScottWeinger) July 16, 2015
Steve and D.J. aren't still together, with the latter being widowed in the new series. But maybe Steve comes back into her life so they can get back together? We'll find out eventually.
And finally, Andrea Barber (aka Kimmy Gibbler) teased the first episode too:
That's a pretty thoughtfully composed shot, complete with the same feet that the entire Tanner family used to poke fun at throughout the run of the original series. Also, check out that Full House mug on the table.
There's no update from Jodie Sweetin (Stephanie Tanner) yet, but maybe she wasn't part of the first day of taping. Though she did tease the reunion a couple months ago with a photo on the lot with Andrea Barber:
And almost the entire original cast returning for the show recently teased the table read:
As you can see, that's Dave Coulier's (Uncle Joey) script above, and now we know the first episode is called "Our Very First Show, Again." I'm betting there will be plenty of homages to that first episode in the pilot of this sequel series, so fans will probably want to go rewatch that episode before this new series premieres, presumably sometime next year.
That's all for this nostalgic update, but there will likely be some more details to reveal down the road as the show starts plowing through new episodes. In the meantime, check out what we previously learned about the series right here.
Anyone out there looking forward to Fuller House?