'Key & Peele' Is Ending After The Current Fifth Season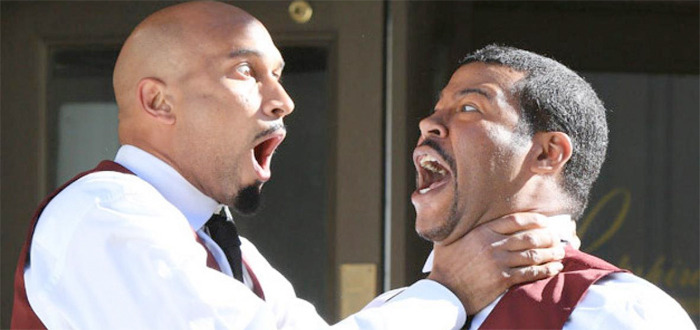 Over the past few years, fans have come to love the comedic stylings of Keegan-Michael Key and Jordan Peele as seen in their self-titled Comedy Central sketch series Key & Peele. Sadly, all good things must come to an end.
Today, co-creator, co-star and recent Emmy nominee Keegan-Michael Key revealed that the current fifth season of the show will be the last. The show hasn't been canceled, but Key and Peele have simply decided they've done what they set out to do with the show. Find out more about Key & Peele ending after the jump!
The Wrap has word from Key about the show ending, reiterating that the show hasn't been canceled, it's just ending:
"This is our final season – and it's not because of Comedy Central, it's us. It was just time for us to explore other things, together and apart. I compare it to Gene Wilder and Richard Pryor. We might make a movie and then do our own thing for three years and then come back and do another movie. I'm thinking we could do that every three years – take a year, go bang out a movie. That's the plan right now."
In fact, they've already done their first movie, a cat caper called Keanu. Key and Peele wrote the movie themselves and their series director Peter Atencio directed the flick about friends (played by Key and Peele) who pose as drug dealers to infiltrate the criminal underworld, all to retrieve a stolen kitty. Will Forte, Method Man and Gabrielle Union will also star.
As for what the duo has coming up, Key explains that they've got plenty more in the works, both together and independently. Key will be acting in a film shooting in New York soon, while Peele will finally be directing that horror movie Get Out (he also wrote the script) which we heard about last fall.
Together, Key says the two may also be reteaming on a new Comedy Central series in the works right now, and they're producing the remake of Police Academy developing at New Line Cinema.
So Key and Peele have plenty more comedy in store, just not in the Emmy nominated, Peabody award-winning format that fans have come to love on Comedy Central. Though there is a movie set up at Paramount Pictures based on their sketch comedy character substitute teacher Mr. Garvey, so they'll be returning to familiar territory at some point if that project actually comes together. We'll definitely be looking forward to anything Key and Peele have in the works.
The current fifth season of Key & Peele still has eight episodes left, and you can continue to catch them on Comedy Central at 10pm Eastern/9pm Central, which will take the show into September. For now, we'll leave you with one of my favorite sketches from the fourth season:
Are you going to miss Key & Peele? Are you excited about any of their movies?