'Star Trek Beyond' Adds 'Fast & Furious 6' Star Joe Taslim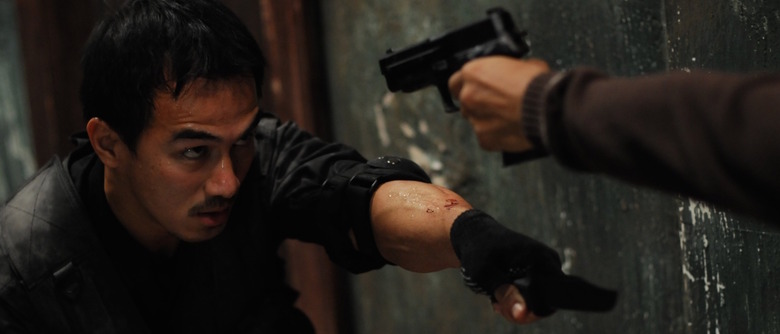 The action in Star Trek Beyond just got a little more exciting. Joe Taslim of Fast & Furious 6 and The Raid: Redemption has boarded the sci-fi sequel, joining fellow franchise newcomers Idris Elba and Sofia Boutella. Read all about the Star Trek Beyond Joe Taslim casting after the jump.
Taslim's role is being kept under wraps, which is no surprise considering how little we know about the film in general. For what it's worth, THR's sources describe it as "a key part opposite Elba, who plays a villain." The script by Simon Pegg and Doug Jung is expected to send the Enterprise on its five-year mission.
Pegg has also suggested Paramount wants Star Trek Beyond to be "less Star Trek-y," which could mean to "make western or a thriller or a heist movie, then populate that with Star Trek characters so it's more inclusive to an audience that might be a little bit reticent." Others have pointed out that that approach actually sounds pretty damn Star Trek-y.
Shooting on Star Trek Beyond is already underway in Vancouver. Core cast members Chris Pine, Zachary Quinto, Zoe Saldana, Simon Pegg, Anton Yelchin, Karl Urban, and John Cho reprise their roles from the last two Star Trek movies as Kirk, Spock, Uhura, Scotty, Chekov, Bones, and Sulu respectively.
Taslim previously worked with Star Trek Beyond director Justin Lin in Fast & Furious 6, where he played one of the villains working under big bad Luke Evans. That film marked his American movie debut. Prior to that, he gained international attention as playing a Jakarta police officer in Gareth Evans' The Raid: Redemption. Both of those roles made great use of Taslim's athletic talents, so we can hope Star Trek Beyond will do the same.
Star Trek Beyond opens July 8, 2016 – just in time for the 50th anniversary of the original TV series.