Seth Gordon To Direct Dwayne Johnson In 'Baywatch'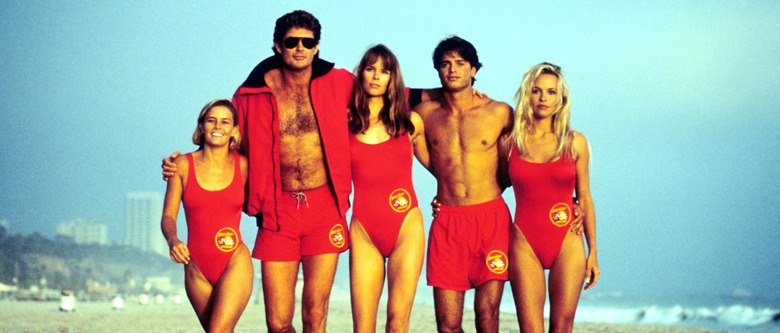 The long-gestating Baywatch movie may have finally caught itself a director. Seth Gordon (Horrible Bosses) is in negotiations to adapt Paramount's action-comedy take on the 1990s series, which has Dwayne Johnson attached to star. Read all about the Baywatch Seth Gordon news after the jump.
THR reported the news. Baywatch has been in the works for over a decade now, with a string of different writers and directors. Damian Shannon and Mark Swift wrote the most recent draft of the script following earlier drafts by Justin Malen, Robert Ben Garant, and many more. Gordon replaces Sean Anders and John Morris (Horrible Bosses 2), who were attached as of last year.
The biggest challenge has been finding the right story and tone. Baywatch, which aired through the 1990s, was an action-drama about lifeguards patrolling the Los Angeles County coastline. But the Baywatch movie will do to the show what 21 Jump Street the film did to 21 Jump Street the series — reboot it as an action-comedy that lovingly pokes fun at the original.
Johnson will play a serious, by-the-book lifeguard who (and I'm sure you can all guess where this is going, just based on that description) is forced to join forces with a young rebellious hothead in order to keep their beach from getting destroyed by an oil tycoon.
Gordon broke out with his video game documentary The King of Kong: A Fistful of Quarters. He's since directed the films Four Christmases, Horrible Bosses, and Identity Thief, as well as several TV shows including The Goldbergs, Breaking In, The Office, and Parks and Recreation.
Writers Shannon and Swift have mostly been known for horror movies like Freddy vs. Jason and Friday the 13th, but have recently branched out into comedy with films like this one and the Peter Dinklage leprechaun pic O'Lucky Day. Last week, they were announced as the writers of Genies, the upcoming Aladdin prequel/spinoff from Disney.
Producers Beau Flynn and Ivan Reitman believe the Baywatch movie is finally close to ready, and are aiming to shoot in early 2016. Johnson's longtime producing partners Dany Garcia and Hiram Garcia are also on board to produce. No release date has been set.