Gotham Season 2 Teaser Trailer: New Batman Villains Are "Hungry Like The Wolf"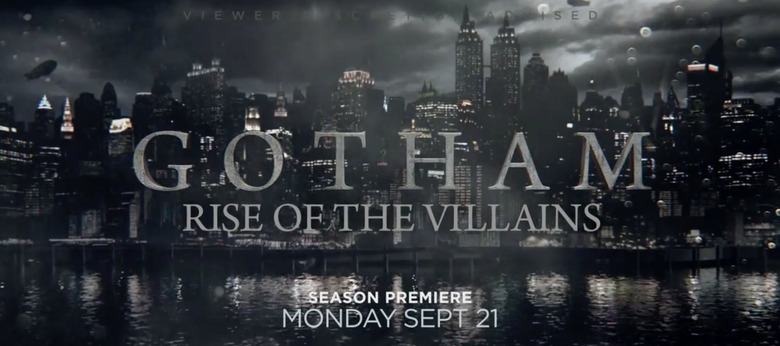 Fox has released a new promo for Gotham Season 2 which ominously promises a "new era" filled with familiar and new villains. Some of the Batman villains teased in the Gotham season 2 promo is Tabitha Galavan aka Tigress (played by Jessica Lucas from Gracepoint) and her big brother Theo (played by James Frain from True Blood), Penguin (Robin Lord Taylor), Edward Nygma aka The Riddler (Cory Michael Smith) and Jerome aka The Joker (Cameron Monaghan). Hit the jump to watch the new Gotham season 2 teaser trailer.
The new Gotham season 2 teaser trailer runs 30-seconds and is set to a cover of Duran Duran's "Hungry Like the Wolf." I personally love Reel Big Fish's cover of the song, but this is way more fitting for this show. We recently reported that Emmy winner Michael Chiklis (and former star of The Shield) would be joining the second season of the Fox series as the new Gotham City Police Department captain.
While I didn't like the Gotham pilot, I gave the show a chance and found the first season improved greatly over the first episodes. But I've given up on Gotham — the show went on break and came back, and the episodes are still piled up on my DVR and I haven't had the guts to dive back in (or maybe there are just so many better shows on my DVR right now). Here is the official synopsis for Gotham: Rise of the Villains:
The good. The evil. The beginning. Everyone knows the name Commissioner Gordon. He is one of the crime world's greatest foes, a man whose reputation is synonymous with law and order. But what is known of Gordon's story and his rise from rookie detective to Police Commissioner? What did it take to navigate the multiple layers of corruption that secretly ruled Gotham City, the spawning ground of the world's most iconic villains? And what circumstances created them – the larger-than-life personas who would become Catwoman, The Penguin, The Riddler, Two-Face and The Joker? GOTHAM is an origin story of the great DC Comics Super-Villains and vigilantes, revealing an entirely new chapter that has never been told. From executive producer/writer Bruno Heller ("The Mentalist," "Rome"), GOTHAM follows one cop's rise through a dangerously corrupt city teetering between good and evil, and chronicles the birth of one of the most popular super heroes of our time.
The second season of Gotham will premiere on Fox on September 21st 2015 at 8:00pm.