'Sharknado 4' Is Coming: You Decide If Tara Reid Survives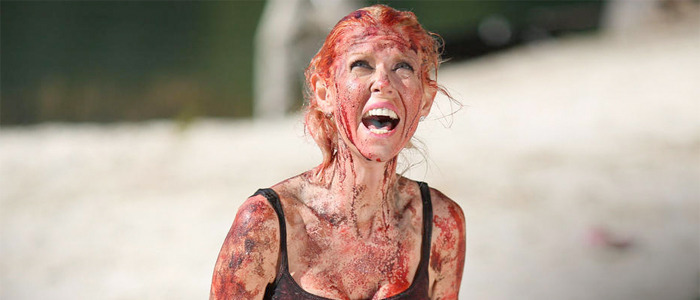 Last night brought the premiere of Sharknado 3: Oh Hell No!, the third installment in the intentionally stupid disaster comedy about sharks terrorizing and killing people as they're blown around by tornadoes.
While fans were expecting the usual terrible special effects, "celebrity" cameos and brutal deaths, they probably weren't expecting a cliffhanger ending. But last night, the final shot of Tara Reid's character April Wexler was interrupted by a cut to black and directions that fans would be in control of her fate, which would be revealed in Sharknado 4. It's like the late-'80s "Death in the Family" story stunt DC Comics pulled for Batman, where readers could call in to vote on whether Robin lived or died at the hands of the Joker.
Find out more about Sharknado 4 after the jump!
If you can't be bothered to watch Sharknado 3 (we don't blame you), the TV movie ended with a large piece of a space shuttle falling towards a bloody April Wexler (Reid) before the film cut to the message "You decide if #AprilLives or #AprilDies," leading into the news that Sharknado 4 was definitely happening because, as the message said, "We're not done yet." If for some reason this all seems too hard to fathom, here's the official reveal of the cliffhanger that's now in the hands of fans:
Will April make it to 'Nado number 4? YOU DECIDE! VOTE now using #AprilLives OR #AprilDies! #Sharknado3 pic.twitter.com/4vU8sIrCxR

— Sharknado (@SharknadoSYFY) July 23, 2015
If you don't use Twitter, you can also vote on SyFy.com right here. I wouldn't be surprised if more people vote for this than vote in our national elections, because this is America after all. So what can we expect from Sharknado 4? Well, more of the same for sure, but director Anthony C. Ferrante already teased some details to Variety:
"I want to do international. There are still U.S. cities that I want to destroy. But it's less about the cities, and it's more about, what are we going to do with Ian and Tara, and what genres do we want to play with?"
But what happens to that plan if fans decide to kill off Tara Reid? Some viewers will want to see the star of American Pie get destroyed by space shuttle debris. Well, Ferrante hopes fans keep her around, since he considers her and co-star Ian Zelig integral to the franchise, "I think they're your leads. You wouldn't do Die Hard without Bruce Willis"
I'm not quite sure I would equate anything in the Die Hard franchise to Sharknado, though A Good Day to Die Hard was pretty awful. Maybe John McClane needs to face a Sharknado next? That's not likely to happen, but Ferrante will undoubtedly get plenty more cameos lined up for the fourth installment, though his dream of landing Bill Murray probably isn't in the cards:
"We wanted Bill Murray in this one and I knew the reality of it. Remember when Lorne Michaels begged the Beatles to come on 'SNL' in the 1970s and he offered like $10,000? If Bill Murray came to the set, I'd give him a Fig Newton bar because that's all we have – and maybe a beer – and we'll have fun."
Honestly, I could see Bill Murray doing Sharknado 4 for a Fig Newton bar just for the fun of it. But thankfully, he's notoriously more picky when it comes to choosing what projects he becomes a part of at this stage in his career.
Anyway, do your job as an American and vote to decide if Tara Reid lives or dies in Sharknado 4, which doesn't have a title yet, but we can only assume will be called something like Sharknado 4: Yes, This is Still a Thing.
Do you want Tara Reid to live or die in Sharknado 4? Do you even care?