'The Social Network' Meets 'Batman V. Superman' In Dramatic Trailer Mash-Up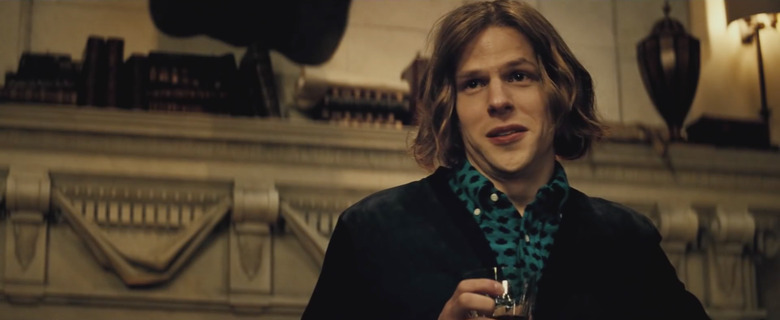 Just recently we featured a quick little edit of some footage from the Batman v. Superman: Dawn of Justice trailer where Bruce Wayne witnesses the final battle from the end of Man of Steel. But now the DC Comics superhero match-up gets a whole new face...literally.
YouTube user and TV writer David Elmaleh has created a mash-up of Batman v. Superman and The Social Network, which features the DC Comics cinematic universe's new Lex Luthor (Jesse Eisenberg) in the lead role. The battle for Facebook between Mark Zuckerberg and The Winklevoss twins has never been so epic, and the David Fincher movie looks like a true battle for the ages.
Watch the Batman v Superman Social Network trailer mash-up after the jump!
Easily the best part of this mash-up is Lois Lane's line "This means something. It's all some people have. It's all that gives them hope." It would be even more hilarious if that wasn't so true about how some people use Facebook. The only thing that might make this better is if Lex Luthor's line was modified to say "The Winklevi are coming."
It's worth pointing out that Armie Hammer, who plays both of the Winklevoss twins, was cast as Batman back when George Miller was slated to direct a Justice League movie. But now we'll never see that happen. However, we'll find out more about it soon enough with a documentary coming about the development and fall of that DC Comics project.
Thanks to The AV Club for bringing this video to our attention.
Fearing the actions of a god-like Super Hero left unchecked, Gotham City's own formidable, forceful vigilante takes on Metropolis's most revered, modern-day savior, while the world wrestles with what sort of hero it really needs. And with Batman and Superman at war with one another, a new threat quickly arises, putting mankind in greater danger than it's ever known before.
Batman v Superman: Dawn of Justice stars Henry Cavill in the role of Clark Kent/Superman, and Ben Affleck as Bruce Wayne/Batman. The film also stars Gal Gadot as Diana Prince/Wonder Woman, with Amy Adams, Laurence Fishburne and Diane Lane returning from Man of Steel, Jesse Eisenberg as Lex Luthor, Jeremy Irons as Alfred, and Holly Hunter in a role newly created for the film. Jason Momoa will also be making an appearance as Aquaman.
Directed by Zack Snyder, written by Chris Terrio, from a screenplay by David S. Goyer, the film is produced by Charles Roven and Deborah Snyder with Benjamin Melniker, Michael E. Uslan, Wesley Coller, David S. Goyer and Geoff Johns serving as executive producers.
Batman v. Superman: Dawn of Justice arrives on March 25th, 2016.