Chris Columbus Wants To Direct Another Harry Potter Movie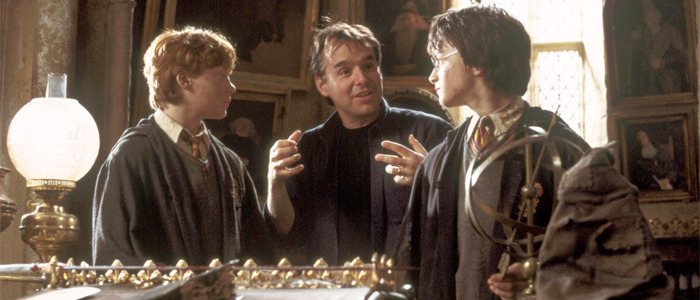 Before the Harry Potter franchise grew up to be the darker fantasy franchise that became a global box office sensation, right along the bestselling books, it started out a little light and more whimsical in the hands of director Chris Columbus. Much like the first two books in the series, Columbus' first two films help set the stage for what would mature into a much more serious fantasy adventure.
And now Columbus says he would love to go back to the wizarding world of Harry Potter by directing another sequel. But he's not necessarily interested in something like Fantastic Beasts and Where to Find Them. Find out more about Chris Columbus' desire for a Harry Potter sequel after the jump!
Speaking with Entertainment Weekly radio (Sirius XM 105), Columbus said he would love to direct another Harry Potter movie, and he even knows what kind of story he would want to tell:
"I would love to go back and do another one. Not Fantastic Beasts as much, which I think is going to be amazing, but I would love to do another movie with those three characters — Harry, Hermione, and Ron. I'm just fascinated about what happened to them after the end of the last movie, because then they cut to 18 years ahead. There's 18 years there of great Harry Potter stories."
The movie actually cuts ahead 19 years, but we won't hold that against Columbus. It doesn't change the fact that at the end of Harry Potter and the Deathly Hallows Part 2, we see Harry (Daniel Radcliffe), Ginny (Bonnie Wright), Hermione (Emma Watson) and Ron (Rupert Grint), all grown up,at Platform 9 3/4, sending their kids off to Hogwarts School of Witchcraft and Wizardry. But we don't know what happened during all that time.
One can assume that not much really went wrong as far as adventure is concerned. Or if something happened, there's no way it was as dangerous or threatening as the return of Lord Voldemort nearly resulting in the death of the title character, killing several of his friends in the process. Still, Columbus thinks there's potential there for a good story, and even if he doesn't direct it, he still wants to know what happened. He told io9:
"There has to be a great story in Harry's life at that point. Hopefully [J.K. Rowling] will maybe think about doing that. Even if I wouldn't make a movie, I'd still like to read those stories."
Honestly, I don't think that there's much story to be told in those years after Harry Potter and the Deathly Hallows and the epilogue 19 years later. Though J.K. Rowling has been filling some gaps about our characters with Pottermore, she has expressed several times that she's not working on an eighth Harry Potter book, nor does she currently have any intention to write it anytime soon.
Personally, I feel like the best way to have more stories in the Harry Potter universe, beyond Fantastic Beasts and Where to Find Them, is to do a prequel franchise focusing on the original Order of the Phoenix, with James and Lily Potter, Sirius Black and more fighting Voldemort the first time. Sure, we know how it ends with Voldemort falling due to The Boy Who Lived, but we don't know about the battle before that. I'm not saying that we need those prequels, but I wouldn't be opposed to see those stories played out.
Otherwise fans will just have to settle for Fantastic Beasts and Where to Find Them starring Eddie Redmayne, arriving in theaters on November 16th, 2016, and likely kicking off a trilogy of films following the adventures of Newt Scamander that happened 50 years before the events of the Harry Potter franchise.
Do you want more Harry Potter sequels or prequels?