Cool Stuff: Star Wars Hot Toys Princess Leia Figure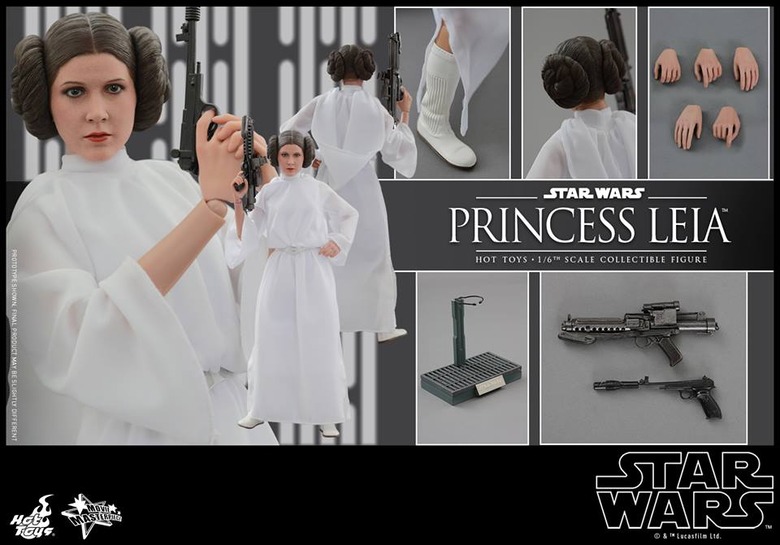 Earlier this week Hot Toys announced an 18-foot-long 1/6th scale Millennium Falcon, which will make its debut at Ani-Com and Games Hong Kong (ACGHK) in just a couple more days. Before that show, Hot Toys has officially announced the addition of a 1/6th scale Princess Leia figure to their Star Wars line. The highly-detailed collectible figure is of course based on actress Carrie Fisher's iconic likeness from Star Wars: A New Hope. Hit the jump to see a gallery of photos of the new Hot Toys Princess Leia figure and learn more about the release.
Here's the description for the Hot Toys Star Wars Princess Leia figure:
"Help me, Obi-Wan Kenobi. You're my only hope." – Princess LeiaThe brave and strong-willed Princess Leia is a beloved character in the original Star Wars trilogy. Her important role in leading the rebellion against the Galactic Empire is unforgettable to any Star Wars fans! Following the introduction of the Hot Toys Luke Skywalker 1/6th scale Collectible Figure, today we are excited to officially present his twin sister, the Princess Leia 1/6th scale Collectible Figure from Star Wars: Episode IV A New Hope!The movie-accurate collectible figure is specially crafted based on the image of Carrier Fisher as Princess Leia in the film featuring a newly developed head sculpt, detailed hair sculpture of Princess Leia's iconic hair style, specially tailored costume, two types of blasters, and a figure stand.A special edition is available in selected markets which include a specially designed backdrop as bonus accessory.Fans don't miss the chance to pre-order this wonderful collectible figure to your Star Wars collection!
No word on when the Hot Toys Princess Leia figure will be released, but I'm sure Sideshow Collectibles will have it up for preorder soon (probably next week).