'Jurassic World' Takes A Bite Out Of 'The Avengers' To Become #3 Highest Grossing Movie Ever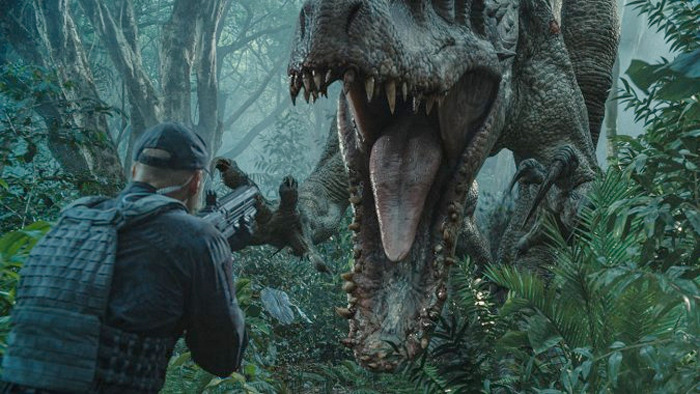 Dinosaurs assemble! Universal Pictures returned to the world of prehistoric action this summer with Jurassic World, a simultaneous sequel and reboot of the popular film franchise started by Steven Spielberg in 1993. The film has been a runaway hit, spending a few weekends at #1 (which isn't easy in today's crowded summer release calendar), and now it's officially even bigger.
Today, Jurassic World officially passed The Avengers on the worldwide box office gross chart to become the #3 highest grossing movie ever. The only two films ahead of Jurassic World are James Cameron's monstrous hits, Best Picture winner Titanic at #2 and sci-fi spectacle Avatar at #1.
Find out more about the Jurassic World box office after the jump!
Box Office Mojo hasn't updated their records yet, but THR reports that as of today, Jurassic World has pulled in $1.522 billion at the box office, which is enough to surpass The Avengers, which sat comfortably with $1.520 billion for a few years. This comes after Jurassic World broke the record for biggest opening weekend of all time in June with $208 million.
On the domestic box office chart, Jurassic World is still sitting at #4 behind The Avengers. As of today's box office update, director Colin Trevorrow's first attempt at a blockbuster had raked in $614 million, while The Avengers has $623 million. There's a good chance Jurassic World will end up besting Marvel Studios' superhero team in the US before it leaves theaters.
And if you're hoping that Jurassic World ends up taking down James Cameron's aforementioned box office champs, don't hold your breath. Titanic has $2.186 billion while Avatar has a whopping $2.788 billion, making them nearly impossible for Jurassic World to catch, like a tyrannosaurus rex chasing Bryce Dallas Howard in high heels (which inspired a new version of Jurassic Park).
While this is good news for Universal Pictures and people already excited for a Jurassic World 2 (which Colin Trevorrow will not be directing), this could be bad news for fans who are sick of nostalgic reboots and sequels. This success will have studios digging back into their most valuable properties even more to try and duplicate the success Universal had.
So now you'll just have to stay tuned to find out how quickly Universal Pictures decides to get Jurassic World 2 (or Jurassic Park 5, whatever you want to call it) off the ground. They'll likely want to move quickly, but Chris Pratt will be pretty busy with Guardians of the Galaxy 2 shooting next year, so we'll likely be waiting at least a couple years.