Final Red Band 'Vacation' Trailer: The Griswolds Get Rowdy And Raunchy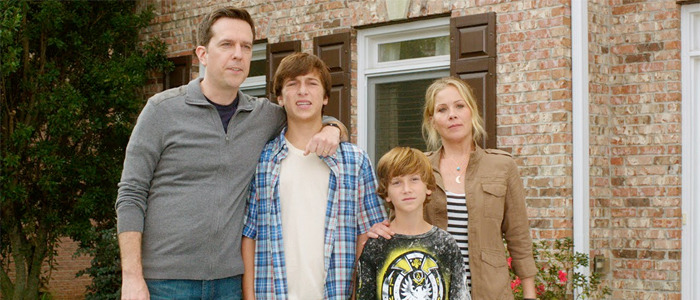 Summer may almost be over, but the latest road trip with the Griswold family in Vacation doesn't begin until next week. Ed Helms plays a grown up Rusty Griswold, taking his wife (Christina Applegate) and their two sons on a trip in order to help bring them closer together, just like when he was a kid.
Now a final NSFW red band trailer makes one last attempt to get audiences on board the new family truckster for a trip that is more raunchy and rowdy than any of the preceding National Lampoon titles. This isn't the best trailer for the movie, but it does have some amusing moments, especially from then new Griswold kids.
Watch the final Vacation trailer after the jump!
Thanks to Yahoo for this NSFW red band trailer:
There's still remnants of the Burning Man sequence in this trailer that we recently revealed was cut from the film, nixing the planned Freaks and Geeks mini-reunion that co-write and co-director John Francis Daley would have had with canceled NBC series co-stars Martin Starr and Samm Levine.
Otherwise, the previous red band trailer for the comedy reboot was a much better representation of the comedy. It's not quite a home run, but there's plenty of laughs to be had, and just the right number of references to the original Vacation, including Chevy Chase and Beverly D'Angelo appearing as Clark and Ellen Griswold.
The real standout of the movie is undoubtedly Ed Helms though, who does an incredible job of subtly inheriting some of his on-screen father's earnest naivete and charm. Chris Hemsworth is a pretty fantastic scene stealer though, and the movie could have used a little more of him. There's also one cameo that the marketing has thankfully kept hidden, and it's a really fun one.
At the very least, Vacation serves as a great launching pad for John Francis Daley and Jonathan Goldstein to become a great directing duo. It also seems to have helped them land a gig writing the new Spider-Man for Sony Pictures, so the Horrible Bosses writers are clearly doing something right.
Following in his father's footsteps and hoping for some much-needed family bonding, a grown-up Rusty Griswold (Ed Helms) surprises his wife, Debbie (Christina Applegate), and their two sons with a cross-country trip back to America's "favorite family fun park," Walley World.
Vacation arrives in theaters next Wednesday on July 29th.