'Mississippi Grind' Trailer: Ryan Reynolds And Ben Mendelsohn Go Double Or Nothing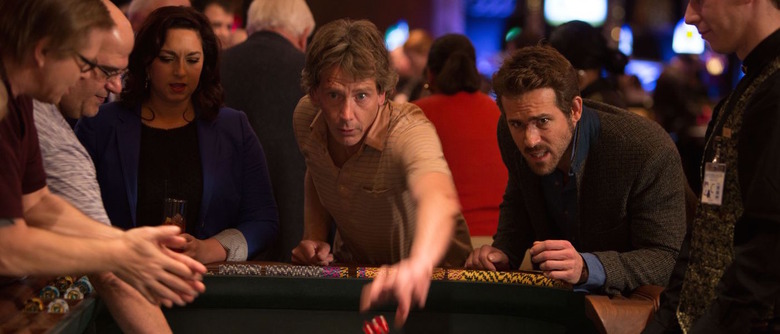 Half Nelson duo Anna Boden and Ryan Fleck are back this year with Mississippi Grind, an indie drama starring Ben Mendelsohn and Ryan Reynolds as unlikely companions on a gambling road trip.
Along the way, the two men learn all about themselves and each other, and meet all sorts of characters, and reckon with the pasts that haunt them, and all of that usual stuff. But between Boden and Fleck's eye for detail and Mendelsohn and Reynolds' appealing chemistry, this one looks a cut above your average road trip flick. Watch the Mississippi Grind trailer after the jump.
A24 posted the Mississippi Grind trailer on YouTube.
Mississippi Grind seems to make great use of both of its lead actors. Reynolds hasn't had an unqualified hit in a while, but his luck could change with the mysterious Curtis. The character seems to draw on Reynold's slightly sketchy charm, while also giving him the opportunity to show off his more soulful side. And while Mendelsohn kinda specializes in portraying unwashed deadbeats, we rarely get to see him play one with such warmth and humor.
Critics at Sundance, where Mississippi Grind premiered, noted the film's debt to '70s classics like Fat City, Five Easy Pieces, and especially California Split. Time will tell whether it stands up to its own influences, but it does seem to have a similarly shaggy charm.
Mississippi Grind opens September 24. Sienna Miller, Analeigh Tipton, Robin Weigert, and Alfre Woodard also star.
Gerry (Mendelsohn) is a talented but struggling poker player about to be swallowed up by his unshakeable gambling habit. But his luck begins to change after he meets the young, charismatic Curtis (Reynolds). Gerry convinces his new lucky charm to hit the road with him, towards a legendary high stakes poker game in New Orleans. The highs and lows unveil the duo's true characters and motivations, and an undeniable bond forms between them.