'Just Jim' Trailer: 'Submarine' Star Craig Roberts Directs His Own Coming-Of-Age Indie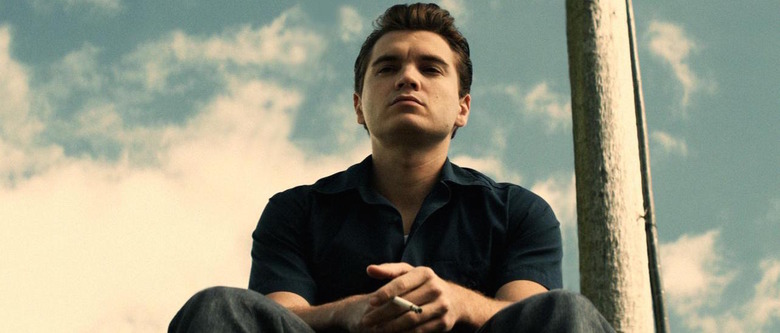 British actor Craig Roberts first came to our attention as the offbeat teen lead in Submarine, Richard Ayoade's directorial debut. Now Roberts is all grown up and starring as the offbeat teen lead in Just Jim, his own directorial debut.
Roberts' Jim is a lonely 16-year-old whose life is upended by a new American neighbor, Dean (Emile Hirsch). At first Dean's arrival seems like a gift, as he takes Jim under his wing and brings out the cool in him, but eventually Dean's dark side emerges. Watch the Just Jim trailer after the jump.
The Just Jim trailer surfaced on Vimeo. As you've probably gathered from the character names, the Rebel Without a Cause references are strong in this one. And as you'll probably gather from the trailer itself, so are the Submarine influences.
Just Jim didn't get a ton of attention when it premiered at SXSW earlier this year, but the reviews it did get were somewhat promising. Screen Daily called it an "an encouraging start for Roberts," while THR described it as "a misshapen but nicely dressed coming-of-age film." So it might not be a home run, but there's apparently enough talent on display to suggest Roberts might hit one eventually.
The U.K. gets Just Jim earlier this year. The film doesn't yet have a U.S. distributor. Here's the Just Jim synopsis from SXSW:
This is the story of a loner. Jim, 16, has no friends and is a bit weird. His childhood friend, Michael, has left him for the cooler crowd and Jim is pushed to the edge when his dog dies. Jim's life changes dramatically when Dean moves next door. Dean is older, American and on the run. He has movie star good looks and is everything Jim would like to be. Dean offers Jim friendship, a makeover and lessons in how to be cool. Jim finally realizes that he is being taken to the dark side. All Jim wants is for something exciting to happen. By the end he realizes that his life was fine the way it was. And he is happy with fine.