Watch The 10-Minute Pitch Video That Landed 'The Muppets' A New TV Series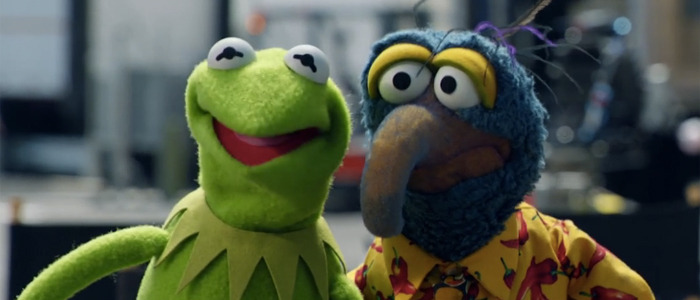 In case you hadn't heard, The Muppets are coming back to television this fall with a brand new series on ABC. Taking a cue from shows like The Office and Parks and Recreation, the series will be a mockumentary style show following the Muppets as they create a new series for ABC. Yeah, it's pretty meta, just like all the rest of their productions.
The Muppets recently put on a hilarious panel at Comic-Con in San Diego, complete with Kermit the Frog, Miss Piggy, Gonzo and more. (You can watch it all right here.) One thing that can't be seen in the panel video is the 10-minute pitch video that was shown to ABC in order to land the series deal. But thankfully, the television studio has released the pitch video for us all to see, and it's fantastic.
Watch The Muppets pitch video after the jump!
This show feels perfectly in line with the humor we've come to expect from The Muppets. The best movies and TV shows have always had Jim Henson's loveable characters keenly aware that they were putting on a show within a show, and it makes for some great comedy for the whole family to enjoy, even if it's touted as more of an "adults Muppet show" by Kermit himself. He follows through on that description pretty well when he says Miss Piggy is making his life a "bacon-wrapped hell on Earth."
It looks like this pitch video is where the first look photos and teaser trailer from upfronts came from. But since we get to see the whole pitch this time, it comes with a celebrity cameo from Elizabeth Banks, Topher Grace and all your favorite Muppets like Gary, tooth guy, the blue one and all the other characters that Miss Piggy can't remember, even after making all those movies and TV shows together over the years.
The Muppets return to primetime with a contemporary, documentary-style show. For the first time ever, a series will explore the Muppets' personal lives and relationships, both at home and at work, as well as romances, breakups, achievements, disappointments, wants and desires. This is a more adult Muppet show, for "kids" of all ages.
Bill Prady ("The Big Bang Theory") and Bob Kushell ("Anger Management") are co-writers and executive producers. Randall Einhorn ("Wilfred"), Bill Barretta, Debbie McClellan and Kyle Laughlin are also executive producers. "The Muppets" is produced by ABC Studios and The Muppets Studio.
The Muppets premieres on September 22nd on ABC.